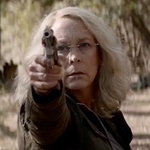 (Many SPOILERS in this review, I'm not gonna label all of them)
HALLOWEEN is the new HALLOWEEN in the HALLOWEEN series – the original HALLOWEEN series, not the remake, HALLOWEEN. HALLOWEEN takes place 40 years after HALLOWEEN and acts as if it is the only sequel ever made to HALLOWEEN. So really it could be called HALLOWEEN II, but maybe that would be confusing since there are already two movies called HALLOWEEN II: HALLOWEEN II and HALLOWEEN II.
Other than being produced by Blumhouse, this one's not coming from any of the usual horror suspects. It's the first horror movie, sequel or licensed property movie from director/co-writer David Gordon Green, who is best known in my opinion for writing the introduction to my book Seagalogy, but also directed GEORGE WASHINGTON, PINEAPPLE EXPRESS, JOE, STRONGER, etc. He wrote it with Jeff Fradley (Vice Principals) and Danny McBride, who he turned into an actor by having him play "Bust-Ass" in ALL THE REAL GIRLS fifteen years ago and continued with PINEAPPLE EXPRESS, YOUR HIGHNESS and Eastbound & Down. McBride is usually a comedy guy, but remember he also got killed by a faced xenomorphs in ALIEN: COVENANT. So he's legit.
Since this is a return to the original series, with no dumbass Weinstein involvement, with Jamie Lee Curtis returning as Laurie Strode, and most surprisingly with John Carpenter executive producing and scoring for the first time since HALLOWEEN III: SEASON OF THE WITCH in 1982, there are some high hopes. If you're not a fan of slasher sequels and want something that transcends them, you might be disappointed. For me, though, it's a satisfying treat that revisits the series template and most important character with many scenes of great tension and without committing common franchise horror sins like obnoxious characters, overly polished look or intrusive rock 'n roll soundtrack. (read the rest of this shit…)
VERN has a new action-horror novel out called WORM ON A HOOK! He has been reviewing movies since 1999 and is the author of the film criticism books Seagalogy: A Study of the Ass-Kicking Films of Steven Seagal and Yippee Ki-Yay Moviegoer!: Writings on Bruce Willis, Badass Cinema and Other Important Topics as well as the crime novel Niketown.