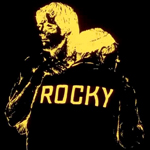 After the success of ROCKY, screenwriter Sylvester Stallone became writer-director Sylvester Stallone with the period wrestling movie PARADISE ALLEY. And then after that practice run he was ready to direct the rematch.
ROCKY II starts right before where ROCKY left off, with about 5 minutes of Balboa vs. Creed. In other words "the end of ROCKY." This type of recap used to be done in many sequels and never is now. You have to remember, there was no home video at that time. It seemed important to remind people what happened because the last movie was 3 years ago and people haven't necessarily been able to see it since then.
So the first new footage is right where ROCKY left off, right after the fight, and we can compare and contrast it to the first movie's scene after Rocky beat Spider Rico in the church. Instead of our hero and his opponent laying bloodied in a small back room waiting for the doctor to show up later, they are both rushed to the hospital in ambulances, and are welcomed there by crowds of fans and press. And instead of the two fighters being like friendly co-workers in-this-shit-together, Apollo starts barking in front of the cameras about a rematch and calling Rocky a punk. This confuses Rocky because, as we were reminded by the archival footage, the very first thing Apollo said after winning the fight was "No rematch." He was very clear about it. They both agreed. (read the rest of this shit…)
VERN has been reviewing movies since 1999 and is the author of the books SEAGALOGY: A STUDY OF THE ASS-KICKING FILMS OF STEVEN SEAGAL, YIPPEE KI-YAY MOVIEGOER!: WRITINGS ON BRUCE WILLIS, BADASS CINEMA AND OTHER IMPORTANT TOPICS and NIKETOWN: A NOVEL. His horror-action novel WORM ON A HOOK will arrive later this year.