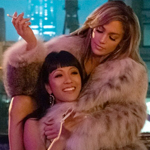 HUSTLERS is a true crime movie with some grit and some emotion and some style. It stars Constance Wu (ALL THE CREATURES WERE STIRRING) and Jennifer Lopez (ANACONDA) as the center of a ring of dancers (they don't call themselves strippers, according to the source material) who started hanging out with rich guys so they could drug them and run up their credit cards. Wu's character Destiny tells the story from seven years later, when she seems to have settled down, and is cautiously, suspiciously answering questions for a magazine writer (Julie Stiles, SAVE THE LAST DANCE).
When Destiny starts working at Moves she's green, rubbing up on guys all day and going home with less money than that's worth. There's a great introduction to the place where the camera follows her and the other new girls from the back, out onto the stage to be introduced and down a ramp onto the floor where some asshole gets her attention by calling her Lucy Liu. Reminded me of one of my favorite shots in CREED, when it follows him to the ring and makes you feel like you're there in his entourage, practically giving you stage fright. This has a similar feeling. You feel like you're her, as much as a movie can do something like that.
Then she sees Ramona Vega (Lopez) entering the room like a pharaoh, dropping every jaw in the room, leaving the stage looking like it snowed one dollar bills. The Michael Jordan of the pole. Later, Destiny takes a rooftop smoke break at the same time as Ramona, who's up there laid out like she's doing a calendar shoot, and introduces herself. Destiny is in lingerie and it's cold, so Ramona has her come curl up inside her big fur coat. I felt this was maybe a love story, but if so it always stays at or below this level of unacknowledged sexual chemistry. So they might just be friends who cuddle. (read the rest of this shit…)
VERN has a new action-horror novel out called WORM ON A HOOK! He has been reviewing movies since 1999 and is the author of the film criticism books Seagalogy: A Study of the Ass-Kicking Films of Steven Seagal and Yippee Ki-Yay Moviegoer!: Writings on Bruce Willis, Badass Cinema and Other Important Topics as well as the crime novel Niketown.