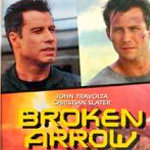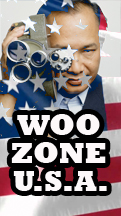 BROKEN ARROW is John Woo's second American movie, and maybe his most generic. Christian Slater (HE WAS A QUIET MAN) stars as Air Force Captain Riley Hale, who's sent on a test flight with his browbeating mentor and pal Major Vic Deakins (John Travolta, CHAINS OF GOLD) that goes awry. Their experimental bomber is carrying two nuclear warheads to find out if they can do it without being detected via radiation. The trouble is, some low rent DIE HARD sequel type villains are waiting out in the desert for Deakins to intentionally crash the plane so they can steal the missiles and make the government pay a ransom to get them back. God damn dirty bombnappers.
Hale survives the crash and encounters park ranger Terry Carmichael (Samantha Mathis) and Deakins has devised various ways to slow down anybody else coming in to help, so they gotta John McClane and Zeus Carver it out. Slater and Mathis had already starred in PUMP UP THE VOLUME together. Later Mathis would be in another movie that Travolta was in, THE PUNISHER. They're all fairly likable, but their characters are bland and lifeless compared to a Chance Boudreaux or a Castor Troy. (read the rest of this shit…)
VERN has been reviewing movies since 1999 and is the author of the books SEAGALOGY: A STUDY OF THE ASS-KICKING FILMS OF STEVEN SEAGAL, YIPPEE KI-YAY MOVIEGOER!: WRITINGS ON BRUCE WILLIS, BADASS CINEMA AND OTHER IMPORTANT TOPICS and NIKETOWN: A NOVEL. His horror-action novel WORM ON A HOOK will arrive later this year.