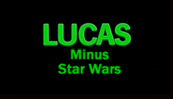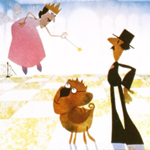 The early '80s were an odd time for animated features. Though Disney had somewhat come out of a slump with the successful THE FOX AND THE HOUND and Disney-defector Don Bluth had some success with THE SECRET OF NIMH, most of the releases were off-brand, slightly off-kilter and remembered now as cult films at best: FLIGHT OF THE DRAGONS, THE LAST UNICORN, THE PLAGUE DOGS, as well as cartoons for adults or teens like AMERICAN POP, HEAVY METAL, HEY GOOD LOOKIN', FIRE AND ICE and ROCK & RULE. Into this weird landscape came TWICE UPON A TIME, a movie with an entirely unique look and that doesn't seem to be aimed at children or adults.
The story has something to do with dreams. In a city called "Din" (portrayed by live action footage and photos of San Francisco or somewhere), people who fall asleep will have good dreams if little animated blobs jump on their faces. But an asshole called Synonamess Botch sends vultures and a magic glowing spring (?) to stop the blobs and give the people nightmares instead. Meanwhile, back in whatever the magical place that's not Din is called, there's a guy called Ralph, the All-Purpose Animal, who changes to different animals or combinations of animals, and has the same voice as Garfield, Lorenzo Music. He has a sidekick called Mumford who's a guy with a bowler hat who seems like maybe he's supposed to be funny or something, but I'm unclear what he does. These two are sent on a mission to dump some garbage, but then sent on a different mission to steal "The Cosmic Clock," which they break and accidentally stop time. Also there's a fairy godmother involved and a guy called Rod Rescueman who is one of those Dudley Doright type characters who thinks he's a super hero but is actually just a dumb muscly guy. (read the rest of this shit…)
VERN has a new action-horror novel out called WORM ON A HOOK! He has been reviewing movies since 1999 and is the author of the film criticism books Seagalogy: A Study of the Ass-Kicking Films of Steven Seagal and Yippee Ki-Yay Moviegoer!: Writings on Bruce Willis, Badass Cinema and Other Important Topics as well as the crime novel Niketown.