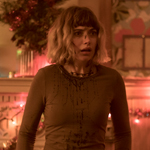 BLACK CHRISTMAS (2019) is another loose remake of BLACK CHRISTMAS (1974). Like the original and the 2006 remake it's about a group of sorority sisters who stay on campus during winter break and then start getting stalked and murdered. The creepy phone calls have been updated to creepy texts, and the identity and mythology behind the killings is completely different from either of the previous versions. Which I support. No reason to do this otherwise.
The opening feels like the serious, scary parts of SCREAM. A student named Lindsay (Lucy Currey) is walking home one snowy night, getting weird texts, thinking a dude is following her. He's not, but suddenly she crashes into a different man wearing a mask and black robe who chases her around a heavily Christmas-decorated house where no one responds to her cries for help. But the horrifying/beautiful overhead shot of Lindsay making a snow angel as she dies and is dragged away sets a bar that's never met in the subsequent off rhythm and ineffective cat and mouse scenes. I didn't realize until afterwards that it's a PG-13 movie, which might explain some of that, but doesn't really justify that the mask isn't particularly cool or creepy. That shit is important in a masked slasher movie.
But maybe not as important as a good protagonist, and in that department BLACK CHRISTMAS definitely delivers. The story centers on Riley (Imogen Poots, 28 WEEKS LATER, FRIGHT NIGHT, GREEN ROOM), who is helping the sisters prepare for some sort of Christmas performance at a frat party, but doesn't plan to participate. Even though she's in a sorority, her long coat and Doc Martens signal a tinge of cool non-conformist status that Poots somehow makes credible. (read the rest of this shit…)
VERN has been reviewing movies since 1999 and is the author of the books SEAGALOGY: A STUDY OF THE ASS-KICKING FILMS OF STEVEN SEAGAL, YIPPEE KI-YAY MOVIEGOER!: WRITINGS ON BRUCE WILLIS, BADASS CINEMA AND OTHER IMPORTANT TOPICS and NIKETOWN: A NOVEL. His horror-action novel WORM ON A HOOK will arrive later this year.