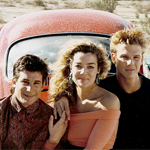 Recently I saw multiple articles about a scene from an obscure movie that someone had appreciatively posted on Twitter – "that insane Nicolas Cage viral clip," as Entertainment Weekly put it. Can you believe that Youtube clip he did? The inside story of that Youtube clip he did. What a nut! What a meme! What a Nicolas Cage!
The clip was a very brief and strange uncredited cameo Cage did in the 1989 straight to video sex comedy NEVER ON TUESDAY. It had never made it to DVD because the company that had planned to went out of business first. I'd never seen it even though it's the first movie from a director I like, Adam Rifkin (PSYCHO COP 2, THE LAST MOVIE STAR).
It's great that we have the technology to easily share shit like this, but I'm old school so I waited to watch the whole thing. When I checked Amazon it was listed as "currently unavailable" on both VHS and Prime streaming (which I don't get anyway), but luckily we're still holding on to Scarecrow Video here in Seattle, so I rented the tape. I'm glad I did!