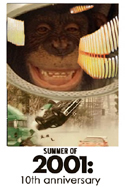 released May 4th, 2001
Okay, now the summer is really starting. Crocodile Dundee, Stallone in a car, those were appetizers. This is the first bonafide Big Ass Summer Movie of '01, with the advertising and the toys and what not. It opened huge, and eventually made more than $433 million worldwide. I don't think I know anybody that likes it, though.
THE MUMMY RETURNS is the second one, the one where the mummy returns for a while, then leaves again. Like the first MUMMY it begins with a narrated prologue that's better than the movie proper because it doesn't have Brendan Fraser or a bunch of talking in it. This one tells a little bit about the legend of The Scorpion King (The Rock), a guy who led a bunch of warriors in trying to conquer the world, but they all died of heat stroke so he was bit by a scorpion or whatever, and magic. His part is less than 5 minutes, he speaks one line and it's not in English, and his narrative purpose is to return as a shitty CGI bug monster at the end. Also to set up a prequel spin-off that's way more entertaining than the mummy movies, in my opinion.
(read the rest of this shit…)
VERN has been reviewing movies since 1999 and is the author of the books SEAGALOGY: A STUDY OF THE ASS-KICKING FILMS OF STEVEN SEAGAL, YIPPEE KI-YAY MOVIEGOER!: WRITINGS ON BRUCE WILLIS, BADASS CINEMA AND OTHER IMPORTANT TOPICS and NIKETOWN: A NOVEL. His horror-action novel WORM ON A HOOK will arrive later this year.