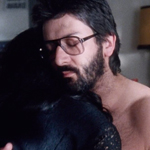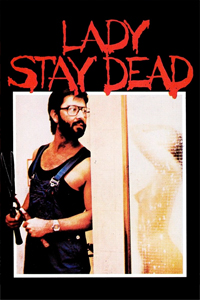 LADY STAY DEAD (1981) is a rare VHS I have considered and backed away from for many a Slasher Search because the dude on the cover… I don't know what it is about him, but his picture suggests the slimiest and most unpleasant of backyard filth-wallowers. This year after checking IMDb ratings and plot summaries on the more obscure VHS available I decided to check it out, and then I discovered I could watch it on a Blu-Ray released by Code Red. They've put out some pretty seedy stuff, so it's hard to know if that's a good sign or not.
Turns out this is not at all the no budget regional sicko movie I pictured. It's an Australian film, a pretty slick one with good production value, though with disturbing content. It opens in a beautiful beachfront villa (filmed in Palm Beach, Sydney), where 24 year old singing sensation Marie Colbie (Deborah Coulls, ROBBERY UNDER ARMS) – who just goes by her first name, like Tiffany – starts her morning with a naked dip in her pool that overlooks the actual water. (read the rest of this shit…)
VERN has a new action-horror novel out called WORM ON A HOOK! He has been reviewing movies since 1999 and is the author of the film criticism books Seagalogy: A Study of the Ass-Kicking Films of Steven Seagal and Yippee Ki-Yay Moviegoer!: Writings on Bruce Willis, Badass Cinema and Other Important Topics as well as the crime novel Niketown.