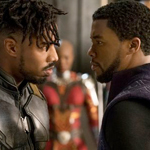 (SPOILERS)
BLACK PANTHER is the first Marvel movie I was anticipating mainly because of the director. FRUITVALE STATION was very good, but of course it was CREED that made me think Ryan Coogler is one of the most promising young directors we have. Best and most miraculous movie of 2015 that didn't star Charlize Theron with a robot arm. I'd be up for whatever Coogler wanted to do next, but this seemed like a particularly good match for him after CREED's mix of moving personal drama, immaculate filmatistic style and 21st century pop mythmaking.
#2 reason: Chadwick Boseman. The guy playing the title character shot to the top of my most exciting actors list when I saw his incredible performance as James Brown in GET ON UP. I didn't know how anybody could pull off playing The Godfather and here is this actor I barely heard of before transforming himself into crazy old man James Brown, young James Brown, all kinds of James Browns. And dancing and strutting and grunting and referring to himself in the third person and pulling it off. He didn't get all that much acclaim for it, definitely not any awards – somehow he got to skip that step before becoming a super hero.
If you want to call him that. T'Challa isn't a vigilante or anything, he's the King of Wakanda, a culture where part of the job is getting supernatural strength and wearing a panther costume to defend the kingdom. It's like if the president also had to be Superman. What's cool about this is that Black Panther has to think about things none of his peers do. He has to be a symbol much like Captain America, but with the responsibilities that Thor skipped out of when he turned down the throne. Here he's challenged to not only defend his rule from a dangerous usurper, but convince his people to shift the direction of the country in order to make a better world. (read the rest of this shit…)
VERN has a new action-horror novel out called WORM ON A HOOK! He has been reviewing movies since 1999 and is the author of the film criticism books Seagalogy: A Study of the Ass-Kicking Films of Steven Seagal and Yippee Ki-Yay Moviegoer!: Writings on Bruce Willis, Badass Cinema and Other Important Topics as well as the crime novel Niketown.