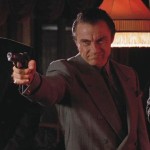 A guy I know told me a funny anecdote about renting this in the early '90s when he was a teenager. He said he got it at a tiny little mom and pop store in a suburb of Seattle. You don't really see stores like that now but they used to be around, especially in the '80s, before Blockbuster and Hollywood were everywhere. This one had a nice old man who ran it (the pop) and when this kid and his little sister brought up BAD LIEUTENANT the old man got excited. "My niece is in this movie!" he says.
"Really?"
"Yeah! Watch for the scene where he pulls over the two teenage girls. She's one of the girls!" (read the rest of this shit…)
VERN has been reviewing movies since 1999 and is the author of the books SEAGALOGY: A STUDY OF THE ASS-KICKING FILMS OF STEVEN SEAGAL, YIPPEE KI-YAY MOVIEGOER!: WRITINGS ON BRUCE WILLIS, BADASS CINEMA AND OTHER IMPORTANT TOPICS and NIKETOWN: A NOVEL. His horror-action novel WORM ON A HOOK will arrive later this year.