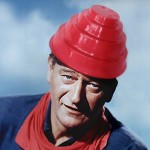 In the movie McQ, John Wayne plays McQ, a cop trying to find out who killed his partner and why. I'm not sure if McQ is short for McQuaid or McQueen, or if it is his real name like McG. Actually, they usually just call him Lon.
McQ was made in 1974, the director was John Sturges, the style seems to be DIRTY HARRY. Except John Wayne was actually offered the real DIRTY HARRY after Frank Sinatra dropped out. He turned it down because he didn't want Sinatra's leftovers. Instead, he would prefer to do a rip-off of Sinatra's leftovers.
Actually, it's not like DIRTY HARRY. It's a little more like MAGNUM FORCE because it turns out the other cops are dirty and there's a coverup. But still it's not the same type of movie, because instead of the liberal West Coast port city of San Francisco it takes place in my beloved liberal West Coast port city of Seattle. And instead of a funky Lalo Schifrin score it's a funky Elmer Bernstein score. So it's totally different. (read the rest of this shit…)
VERN has been reviewing movies since 1999 and is the author of the books SEAGALOGY: A STUDY OF THE ASS-KICKING FILMS OF STEVEN SEAGAL, YIPPEE KI-YAY MOVIEGOER!: WRITINGS ON BRUCE WILLIS, BADASS CINEMA AND OTHER IMPORTANT TOPICS and NIKETOWN: A NOVEL. His horror-action novel WORM ON A HOOK will arrive later this year.