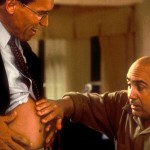 There was a time a couple years ago when it seemed like every day the headlines were just trying to out-crazy the day before. Planes falling out of the sky, anthrax in the mail, snipers on the loose, hurricanes, that lady releasing doves for each charge Michael Jackson was acquitted of… you wouldn't have been surprised to get the morning paper and read that killer bees had swarmed Congress, rabid baboons were loose on the Space Shuttle and the Olsen twins had torched themselves outside of the "Today Show" window to protest censorship of rap music and video games. There are no baboons in CHILDREN OF MEN (there is a deer walking through a building, come to think of it) but this is a movie that perfectly captures that knot in your stomach, that feeling of madness, where the world has gone so crazy you keep bouncing between complete desensitized detachment and wanting to cry at the slightest provocation.
Technically this is a sci-fi movie, but it doesn't feel like it. It feels so fuckin real. Most dystopia movies are stylized in some way to make them look cool. This one goes for reality. The only futuristic technology you see is for mundane things like video games and animated bus ads. It looks great (like all of director Alfonso Cuaron's movies) but not like a beautiful painting, more like a good documentary, and mostly shot handheld. There are 4 or 5 classic sequences here that I have no idea how they could've possibly been done. Like, there's a scene where Clive Owen, the hero, runs through a war zone surrounded by total fuckin mayhem. In what appears to be one continuous handheld shot he runs between buildings, up stairs, through hallways evading hundreds of gunshots, seeing tanks blow up buildings, having emotional moments with other characters. And not a moment of it looked artificial to me. The only thing in the whole movie that struck me as a special effect was, of all things, a baby. And that was a good special effect. But the rest looked like reality. (read the rest of this shit…)
VERN has been reviewing movies since 1999 and is the author of the books SEAGALOGY: A STUDY OF THE ASS-KICKING FILMS OF STEVEN SEAGAL, YIPPEE KI-YAY MOVIEGOER!: WRITINGS ON BRUCE WILLIS, BADASS CINEMA AND OTHER IMPORTANT TOPICS and NIKETOWN: A NOVEL. His horror-action novel WORM ON A HOOK will arrive later this year.