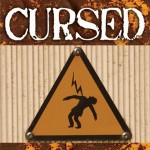 SPOILER ALERT !!
Hey folks, Harry here to bestow upon you the glory and the greatness that is the mighty Vern. He wades through films and text like the Grim Reaper in a Corn Field…. shitting out the husks of material that dreams of better days. Now he turns his excellence at Wes Craven's troubled latest. A film left hemorraging from the Dimension process, but with a pedigree of cool otherwise. Let's see what Vern says…
Harry –
Don't know if you're sick of me yet this week but I just saw CURSED one day early, so what the fuck man you know what happens next. A review, some belligerent talkbacks, etc.
This is the new one from Wes Craven, who in my eyes at least still has some small amount of credibility. I know he tries his damndest to piss it away on executive produced projects like DRACULA 2000, WISHMASTER, WES CRAVEN'S SO-CALLED CARNIVAL OF SOULS, etc. And he's done some bad ones all throughout his career. Like DEADLY FRIEND and DEADLY BLESSING. I forget which one is which. One of them involves a robot. And VAMPIRE IN BROOKLYN. And THE HILLS HAVE EYES 2. (read the rest of this shit…)
VERN has been reviewing movies since 1999 and is the author of the books SEAGALOGY: A STUDY OF THE ASS-KICKING FILMS OF STEVEN SEAGAL, YIPPEE KI-YAY MOVIEGOER!: WRITINGS ON BRUCE WILLIS, BADASS CINEMA AND OTHER IMPORTANT TOPICS and NIKETOWN: A NOVEL. His horror-action novel WORM ON A HOOK will arrive later this year.