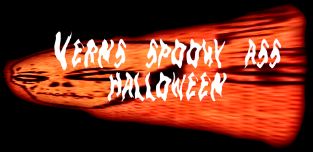 Okay guys I know its not monday yet but i have a new column for you – a special halloween treat for all you motherfuckers that like all the spooky shit.
what i decided to do is rent every movie i could find with the word halloween in it. This is what i got:
Halloween
Halloween 2
Halloween 3: Season of the Witch
Halloween: The Curse of Michael Meyers
Halloween 5
H20 Halloween
Now, as my regular readers know old vern has been out of the picture for a while. This is my first halloween in many years so it is a special treat. i cannot remember the last time i watched a scary movie for halloween, let alone 6 in a row. I think i have seen the first halloween movie before but this is the first time i have been able to watch the whole trilogy. (read the rest of this shit…)
VERN has been reviewing movies since 1999 and is the author of the books SEAGALOGY: A STUDY OF THE ASS-KICKING FILMS OF STEVEN SEAGAL, YIPPEE KI-YAY MOVIEGOER!: WRITINGS ON BRUCE WILLIS, BADASS CINEMA AND OTHER IMPORTANT TOPICS and NIKETOWN: A NOVEL. His horror-action novel WORM ON A HOOK will arrive later this year.