WAKE IN FRIGHT is a fever dream of a movie from Australia circa 1971 and director Ted Kotcheff (FIRST BLOOD). It stars Bond… Gary Bond as a teacher leaving for Christmas break from a school he's stuck teaching at out in the middle of nowhere in the outback. He hates it and is desperate to make it back to Sydney and see his surfer girlfriend. But it's a long trip and while staying the night in a town called "The Yabba" he goes out for a drink. And it turns out to be a long fucking night.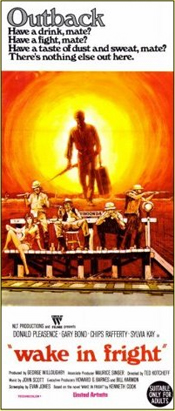 Mostly this is a movie about feeling you don't belong, not relating to the people and the place around you, but figuring "what the hell?" and trying to dive in head first. He goes to a huge bar with some strange rituals (everyone has to stand up and pay tribute to fallen comrades at one point). It's funny, because I feel like maybe I don't understand what they're doing because I'm not Australian, but this guy doesn't understand either. He's too middle class or maybe he just had to be raised in this mining town to get it. But he tries to fit in. You know what they say, "When in The Yabba…"
He has some conversations with some different people, and lots of dudes buy him beer. Everybodys' shocked to find that he doesn't like The Yabba. They all think it's the greatest place this side of Slicedbreadia and anybody who doesn't see it must just be a complete weirdo.
In this place there's a huge racket for gambling on this coin-flipping game that I swear I saw in some other Australian movie. On a whim he tries to understand it and makes some money. Then he starts to really get wrapped up in it. He comes one bet away from the money he he needs to get out of his teaching contract, but of course he blows it and gets down to one dollar to last the rest of his trip. Whoops.
There's some real class tension here. THis guy wears sunglasses and a white button up shirt, looks like Robert Redford. What the fuck, man, trying to make the locals look bad. Everybody's nice to him but you can sense there's traces of him looking down on them and also being afraid of them thinking he's a sissy. He keeps trying to not accept their charity, but people in The Yabba like buying people drinks like it's their patriotic duty. If you refuse their drink it's like you took a shit on an Australian flag.
So he takes their drinks and the next thing you know he's spending days hanging out with some random dudes he ran into. They drink, gamble, wrestle, shoot guns. He almost screws one guy's daughter (I thought it was the wife, though) but then he breaks the romantic mood by puking. Speaking of romance, at one point it's heavily implied that sweaty Donald Pleasance molested him in his sleep. When they first introduce Pleasance he seems like the most thoughtful guy of the bunch, but pretty soon he's chugging beer while doing a headstand, and then wrestling Gary Bond, ha ha ha, just joking around, whoops, accidentally copped a feel, oh no, now I am passing out in a way that just happens to look like unsolicited cuddling. What was that? Why did you wake up with your pants undone? Man I don't know, what am I a zipper expert?

Oh well, it's like that other thing they say. "What happens in The Yabba stays in the Yabba."
The craziest scene is when they go kangaroo hunting. It shows real kangaroos being shot, but at the end a producer's note says not to worry, all animals were harmed by professionals. Anyway, after they've shot some they start wrestling them. Somehow our teacher gets peer pressured into fighting a kangaroo. Kids, just because it seems cool to brawl with a large marsupial doesn't mean you have to do it. Stand up for yourself. But this guy does it and although he's wincing in horror he's also putting all his aggression into it, punching that thing in the face, beating it to death, dragging its corpse over to the fellas. Unleashing the angry beast beneath the school teacher exterior.
(According to a plot summary I read he stabs him, but it looked bare-handed to me. I'm gonna go with that 'cause it's cooler.)
By the end he's a complete mess, a dirty, sweaty savage. He's drawn blood, tasted it, he's been deflowered by Dr. Loomis, he's lost time, he's walked through the desert and done a poor job of hitchhiking. He's learned about himself, but mostly he's wasted away his vacation on beer. And now it's back to the grind. Shit.
Well class, open your books to page 13. Oh jesus, what is this, kangaroo blood on my shirt? God damn it.
I guess the movie was once considered lost, they couldn't find any good prints of it so it was never on video or played on TV between '71 and '09. But then they remastered it, re-released it and put it on the various disc formats over there in Region 4.
By the way, I can't imagine any way to interpret this as an action movie. I doubt it went over too good at Actionfest. Especially if they showed it at night and people were tired out from all the other movies, it would seem like an endless flu nightmare. You gotta be in the right mood, and not looking for anything resembling thrills. I doubt there's any way to re-edit it into KANGAROO PUNCHER.