I forget who it was that put this on my radar a while back when it was a big deal in Norway, but they were right, this is an interesting movie. NORWEGIAN NINJA is hard to describe. You'd kind of need to see it for yourself to understand. So I'll try to explain it enough that you might want to see it for yourself and then understand.
Arne Treholt is apparently a real historical figure in Norway, a former Norwegian Labour Party politician who was photographed with KGB agents and sentenced to 20 years in the country's biggest espionage case ever. Thomas Cappelen Malling is the author of a popular humorous book that purported to be a ninja field manual written by that guy. Not sure how that works exactly, but sounds intriguing. Now Cappelen Malling has directed this movie which is sort of an alternate history of Norway that argues that Arne was not a spy, he was set up in a conflict between the left-leaning side of the government that he was part of and the rightwingers, called "Stay Behind," who do anything they can to help America fight the Russians, including faking terrorist attacks to make people fear commies.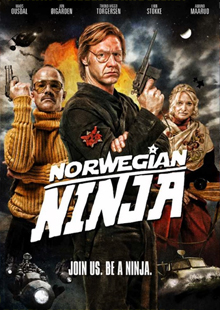 Okay, doesn't sound funny so far, and that's part of what's brilliant about it. There's not some bad guy with an evil plot so much as a true-to-life ideological disagreement and people that are willing to kill for what they see as the greater good. It's got so much intrigue going on it could almost be a serious cloak and dagger type thriller, but it just goes a little too far into the silly zone. You see, Treholt, according to the movie, works off of a mysterious island where he trains ninjas and has barbecues. He keeps getting sent out to look for Russian submarines and shit, never finds anything, and is getting fed up. It's kind of embarrassing to be sent on these wild goose chases, but kind of awesome for a while because he gets to go around underwater with guys on submersible things straight out of GI Joe, with patriotic sounding theme music that reminds me of a Michael Dudikoff movie or something.
These aren't masked ninjas, though they do wear black sometimes. This is a tribute to the white ninjas of late '70s, early '80s pop culture when people in the west were first becoming familiar with the concept. Arne's most traditional ninja activity is to appear and disappear with a puff from a smoke bomb. This is a good way to show up for meetings and stuff.
What makes this movie work is that it's completely deadpan. The actors all give naturalistic performances and don't play shit up like it's supposed to be funny, even though it is.
I'm surprised that this is a rookie director. I figured it was some genius from music videos or commercials, like a Norwegian Michel Gondry, because it looks so good and has such an attention to subtle detail. The faded colors, the music, the pacing and even some of the sound recording are incredibly authentic to the time period, like an old news broadcast. It has kind of a mockumentary format but not in the modern sense, it's a mock documentary from back when they would try to do a good job documenting and use tripods and stuff, plus angles from security cameras and nightvision goggles.
But they violate the format for lovingly artificial insert shots and special effects: a model version of the island, planes where you can see the strings, a phony looking shot of hands writing on a notepad. Sometimes the starry sky looks like it could've come out of CABIN BOY or something. The effects shots are kind of like old school James Bond with a touch of Wes Anderson.
It's a way better looking movie than AMERICAN NINJA is what I'm getting at. Not to be unpatriotic but that's just the truth.
There are some funny lines in this movie. When he's introducing the different members of his ninja team he says about the first guy "He gets the job done," and then after he says some stuff about the second guy he says "He also gets the job done" and the third guy, "He gets the job done as well."
This is a one of a kind movie with a perfectly calibrated tone. It's just the right amount of ridiculous and plays it with the exact right casualness. This guy looks like some office manager or something but he acts like he's a bad motherfucker because, well, it turns out he actually is. If you were to get in a scuffle with Treholt you would look at him and laugh and think "Who does this arrogant asshole think he is?" and then he would hand your ass to you and you'd think "Oh, okay, I get it."
The thing with the smoke bombs is a good example of how just-right the humor is here. The joke could be like BEVERLY HILLS NINJA, that he's incompetent. He throws down the smoke bomb but then you see him running away or something, it doesn't work. But the joke is a little less broad – the smoke bombs actually work, he really seems to disappear and appear. But he does it in situations where it's really silly. I don't care how clandestine your meeting is supposed to be, a smoke bomb is not usually gonna be appropriate. It's gonna make people uncomfortable more than anything else. But Arne Treholt doesn't give a shit about that. He's Arne Treholt.
If you're looking for a non-stop laughfest this isn't it. And obviously if you're looking for a serious ninja movie, I recommend ones that are not Norwegian. But if you want a very unique exercise in style, tone, and absurdity there's really nothing like this.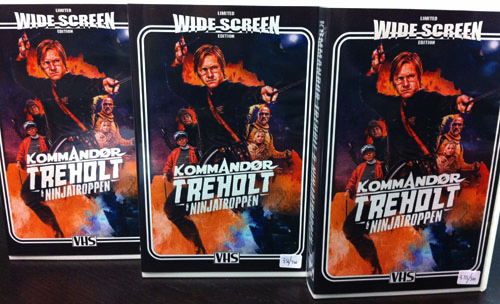 This entry was posted on Sunday, September 4th, 2011 at 11:40 am and is filed under
Comedy/Laffs
,
Reviews
. You can follow any responses to this entry through the
RSS 2.0
feed. You can skip to the end and leave a response. Pinging is currently not allowed.