FACING ALI is a great new documentary about Muhammad Ali (out on DVD last week) that tells his story through the eyes of 10 of his opponents. You still get clips of the champ talking, training, fighting, but you hear about these legendary fights from new interviews with the other guys.
Each of them tell a little about their backgrounds, so they have their own interesting stories. Then they tell about the lead up to the fight, what happened, how they felt about it. Some have nothing but respect for Ali, they admire him, even idolize him. Some are still bitter about the way he insulted them, thought he was too mean. But more than one cries when talking about Ali's Parkinson's.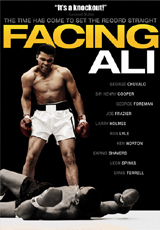 It's not just a great portrait of Ali, but of professional boxers in general. You got different races, a couple guys from different countries, but all of them grew up hard, working class, scrapping for money, many of them criminals. Some of them are very articulate, some aren't, but they all have really good stories to tell. Through the stories of Ali and his opponents this movie crosses paths with mobsters, hitmen, the Vietnam War, the Fruit of Islam, the assassination of Malcolm X, an allegedly thrown fight, a musical performance on the Jack Benny Show, a prison bid and a near death experience. So there's more than just punching, although yes, there is also alot of punching involved.
Although they talk alot about the importance of Ali to black America it's a white dude, the Canadian champion George Chuvalo, who seems most invested in Ali's career from afar. He has opinions about everything, including saying that Sonny Liston took a dive because he was threatened by the Nation of Islam. In archive footage they show Chuvalo at the fight, being held back, trying to get in Ali's face to confront him about it. It's like REDBELT. But even though he believes that, Chuvalos also seems fiercely protective of Ali's dignity and respect as The Greatest, for example seeming offended by Larry Holmes "taking advantage of an old man" by defeating him in 1980, two years after he'd famously decided to retire as champion and "get away clean."
This is a really fascinating new way to look at this story. With a guy like Ali it's easy to slip into hero worship, so it's kind of cool that this shows him from the perspective of the guys he punched the shit out of, so you see different sides of him. I always laugh at his boasts and taunts but a couple times this movie made me feel sorry for the people he was insulting, who just weren't quick-witted enough to get into that type of duel with him, or weren't about to retaliate when he had the nerve to call them uncle toms. He's a showman and a funny guy but you realize sometimes he's a bully. At the same time that you're accepting that, though, your respect for him is raising as you see what a hero he is even to these people he left in the dust.
The filmatism is good too – great jazz and soul soundtrack, artfully lit interviews with shadows filling out the crags on the boxers' aging faces, gorgeously restored archive footage, energetic editing, smartly structured. It's a great movie especially for somebody like me who loves Ali but doesn't know shit about boxing.

"Hey Vern, do you watch boxing?"
"Nah, just documentaries."
There's alot of information about Ali out there. Obviously WHEN WE WERE KINGS is one of the all time great sports documentaries, and his life has been dramatized both by Will Smith and by himself in a TV movie, and many of his fights are available on DVD. So it's impressive to see somebody come up with such a smart idea for a new angle on the champ, and to execute it well. Also impressive is that this was produced by Spike TV. I guess some of that money they get for running Ax Bodyspray ads all fuckin day goes to some good every once in a while.
This entry was posted on Tuesday, January 5th, 2010 at 2:22 am and is filed under
Documentary
,
Reviews
,
Sport
. You can follow any responses to this entry through the
RSS 2.0
feed. You can skip to the end and leave a response. Pinging is currently not allowed.