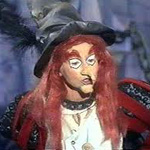 Well here it is Halloween already and fuck if I've got into the spirit of the thing. I tried buying a compact disc of John Carpenter's score to the movie Halloween and I put it on driving around in the pouring rain. And I try to picture that white masked bastard jumping out of nowhere onto my car right when the keyboards do their little electric BYYYOOOOOOO sound and okay, I'm halfway there. But other than that, I mean I got no pumpkins, I got no costume, I got shit.
So what do you do. You follow the halloween traditions our nation and culture have set forth for us. You go to the theater to see the one half assed horror movie that they decided to release right before Halloween. In this case, Book of Shadows: Revenge of the Blair Witch Project Part 2, Return to the Dark Woods of the Burkitsville Horror. (can't remember the exact title actually so I made that one up, hope the boys at artisan like it.)
Now I gotta admit, I am one who enjoys a bad horror sequel. I got the entire Freddy, Chucky, Michael, Leather and Jason series under my belt and not for nothing. I don't know what the fascination is. I guess I'm hoping this one'll be better than the last. Or whatever. But with Revenge of the Dark Witch, I couldn't help but feel left out.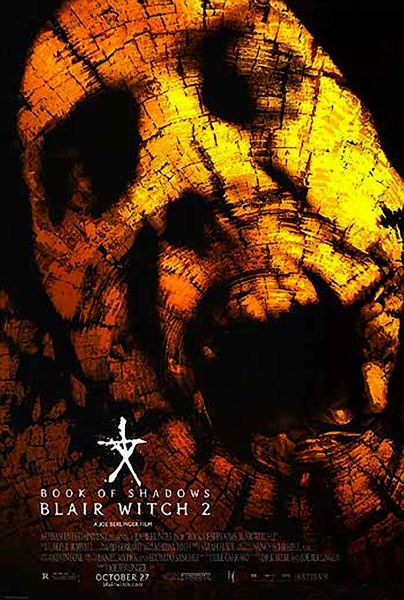 You see, I must've just missed the hoopla. I remember alot of obsessive type individuals attacking this movie on newsgroups but I don't believe I actually ever went and saw it. I got out in August so I'm guessing it must've come out in June or July. Anyway for any of you who may have also missed it, apparently this is some kind of evil-in-the-woods documentary shot in the dogme 95 style. It was very controversial because alot of people didn't think it was a real movie, and everyone else thought it was scary or at least made them throw up.
So now that the sequel is out, every critic in the world is itching to tear it a new asshole, and for all different agendas. First you got the people who loved the first one, or respect it as an underdog story, the low budget movie that made ten catillion dollars. These people have no choice but to hate the sequel because it represents everything they are against. It cost more money, it's expected to make alot of money, and they don't want capitalizing on old ideas and characters, they want new. Also this is a more traditional movie shot on REAL FILM, FOR REAL MEN, NOT FUCKING DIGITAL VIDEO YOU FUCKERS and with scripted dialogue and a score and special effects and everything normal that was avoided in the first one due to the strict code of dogme 95.
Then you got the critics who fucking HATED the first one, or at least they did after they found out it was really popular. These guys also have to hate the sequel, because it represents even more of the first movie that they already have gone on record as hating. There will probably be a couple of these types who claim to like the sequel even though they don't, just to spite everyone, or more likely will admit it is bad but make outrageous claims about it being WAY, WAY better than the first one regardless.
Well I'm not in either group, I haven't even SEEN the fucking thing so what the hell am I supposed to do. Just stay out of this?
No, I'm going to be the moderator. The referee. The cautioned observer. And let me tell you, they're all wrong. The movie's not nearly as bad as they're saying. It's also not good so don't let anybody feed you that one either.
What it is is a group of characters go to the woods where the first movie was filmed (actually, some different woods, standing in for the original woods). The town is overrun by tourists because of the movie. They say the legend of a killer witch (or something?) is not true. Then the main characters can't remember what happened to them at night. They go back to an abandoned factory that one of them lives in, and all kinds of WEIRD shit starts happening.
That is the plot. It doesn't really follow traditional horror sequel structure, although the characters do seem like they could be in a Freddy sequel. They are all unknown actors but not particularly amateurish, just not really great. I guess this was done to be in the spirit of the first one but again, this is what they did in the Freddy pictures.
What is daring about this movie, and also what doesn't work, is that there is no explanation for anything. There is no internal logic or implied solution. There is just a bunch of weird shit and impossible shit that happens. How could this video show me doing that, when I know I never did that? It is left up to your imagination to decide. Did they really do that? Or is the video just cursed? What is real and what is hallucination? What is that slimy stuff they poured into the one dude's nose at the mental hospital? Is there some kind of conspiracy here?
These deliberatley unanswered, answerless questions go against the nature of traditional filmmaking. I think the idea is hey, Blair Witch Part A was popular because it broke all the rules in a fake documentary format. Now let's continue to break all the rules, but make it look like it's supposed to be a Freddy sequel. And I appreciate the spirit of it, of trying to make a horror sequel script where instead of linking a bunch of murders together, it links a bunch of weird shit together.
But in the end there doesn't really seem to be much of a mystery to mull over. Just a bunch of weird shit. So at the end all you can really think is, "Huh."
* * *
Bonus paragraphs, added later
Upon further ruminational type thinking, I started to decipher some of the motifs, themes and what nots of this picture and realized that there was actually alot more going on than I gave it credit for. In one scene a character is interviewing the others on a camcorder and says, "Video never lies. Film does," and of course the movie immediately switches to film.
I thought that was just a joke at the time but now that I think about it, I think it is supposed to mean that the video footage in this movie is "real" and everything else is the subjective experiences of the characters. There is alot of work to set up different kinds of influences. There is alot of beer and pot and alot of talk about group hysteria and debates about subjective reality and if someone really believes something then isn't it true and all that other academic horse shit. The movie also opens claiming that it is a "re enactment" based on hours of interviews.
So this is an interesting and challenging idea, a horror sequel that forces us to question the reality of our own perceptions. Maybe if I went back and watched it with this in mind it might be a little more interesting. I might start thinking HOLY SHIT HOW DO I EVEN KNOW I'M SITTING IN THIS THEATER? OH MY GOD IT'S BLOWING MY MIND.
The trouble is there are too many phoney hollywood touches to really take it serious on this level when it comes to the video footage. Unless you believe that it is only their pot and alcohol and mental hospital and traumatically fueled delusions that cause them to think they can "redigitize the footage" and blow it up to reveal the face of the naked lady that appears ghostlike spinning backwards in the footage.
* * *
There is some clever nod type stuff in here. I guess horror now is about clever nods so that's what you get. There are jokes about the popularity of the first movie. And the end credits roll over a spinning helicopter shot so if you thought handheld cameras made you dizzy enough to puke, you will be running for the exits. There are also references to Paradise Lost, the documentary Joe Berlinger made about three kids convicted of child murders mainly because they listened to heavy metal, wore black and one was interested in Wicca. Blair Witch Forever has the opening helicopter shots of the woods with heavy metal music like the opening credits of Paradise Lost. And they have a character that represents that Wicca actually isn't evil and they even got a part where a goth gal says, "Where I come from they think wearing black makes you some kind of sick killer."
Which reminds me there is one major thing going for this movie though that I think will cause it to in a small way live on in the pop culture unconsciousness or whatever. And that is, all men love a cute goth chick. I think you know what I'm talking about, if not a goth chick is one of those chicks that wears all black and has pale skin and dark hair and acts all spooky.
Okay so maybe not all men, and maybe not most men my age even. But if you watched a certain amount of Vampira when you were growing up then you know what I'm talking about. Hubba hubba, right? For some reason, we are suckers.
I mean the girl in this movie, she's not traditionally hot and I'm not sure I'd even want to hang around with her. I mean god only knows what kind of horrible music she might listen to. But you see her laying there on a coffin smoking a cigarette and, what can you do man. You're helpless.
Admit it you assholes it's true.
Anyway, point is, the merciless critical attack on this picture is not really fair. But I'm not really gonna recommend the movie. How does it stack up against other part 2s? It is not as good as Halloween 2, Hellraiser 2, Texas Chainsaw 2. It is not as ill-advised as Psycho 2 but is ultimately less effective. It's better than The Birds 2. It is arguably not as good as Freddy 2 or Jason 2. It is probably better than Chucky 2 although again, one could squabble. I'll bet it's a hell of alot better than Wishmaster 2 judging from Wishmaster 1 anyway. It's not as good as From Dusk Till Dawn 2. It's probably better than Lust For a Vampire although part 1 and part 3 of that series are lightyears ahead. It's definitely no Bride of Frankenstein.
Come to think of it there are alot of pretty good part 2s. So let me just compare it to part 3s, to be nice. It's better than Hellraiser 3, Chucky 3, Dusk Till Dawn 3, Scream 3. It's as good as or better than Chainsaw 3 and Halloween 3. Maybe they should've just called it Blair Witch 3 and people would be nicer.
Anyway friends have a good halloween and take it from me if some fuckers start smashing your pumpkins don't exacty your revenge it's not worth it
–Vern
celebrating one full year without getting arrested