I liked VISITING HOURS so much I figured I should follow the ol' auteur theory with its director, Jean-Claude Lord. I know it's a French theory, not French-Canadian, but I think it still applies. It's 1986, only four years after VISITING HOURS, and the poor guy is already doing THE VINDICATOR.
THE VINDICATOR is the story of Carl Lehman (David McIlwraith, who played Andrew Card in the TV movie DC 9/11), genius scientist and soon-to-be-father who goes in to confront the famed rich guy Alex Whyte (Richard Cox, who played Alan Dershowitz in the TV movie AMERICAN TRAGEDY) who cut off his funding just when he knew he was on the verge of a huge fucking scientific breakthrough. What could go wrong? He'll probly be very persuasive and the two will work out a compromise to continue the research, support each other and work together for the betterment of mankind. I'm sure everything'll be fine.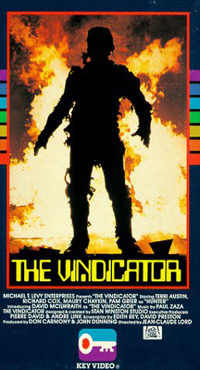 Oh, sorry guys, now that I think about it I already watched this movie and I remember that they did not work it out. Instead Carl gets set up, left alone in the lab where he has to try to stop a meltdown and gets stuck in a chamber and fried to shit like that blue guy in WATCHMEN. Everybody thinks he's dead but his colleagues secretly take what's left of his shriveled flesh and put it inside a powerful robot body they built to send to Mars. Also it's programmed to go ape shit and kill anything that comes near it. Which would be handy for the experiments it would be doing on Mars.
I'm no scientist but if it had been me I think I would've left out the programming that causes it to be extremely dangerous, just use it as a miraculous life-saving device and instead of being secret about it go show it off and make lots of money off it. But obviously these guys aren't in it for fame and power, they're just in it for pure science, so instead they secretly make a dangerous killing machine destined to go on the loose and massacre a whole bunch of innocent people and then come back and kill them. Or, you know, vindicate them. And when it gets loose they report it as "a nutcase in a space suit."
At first The Vindicator just looks like a regular dude in a gold lamé biohazard suit like you or I, but then he gets burned up and it reveals his robot parts beneath, with his eyes showing as his only human part. He's basically still Carl, a fairly nice guy, but because of the defense mechanism they gave him he has to be careful not to let anybody get close to him. If somebody accidentally bumped him in a hallway for example he would probly tear their arms off, he can't help it. The punks who attack him in an alley learn that the hard way. Even the one who didn't do anything gets his motorcycle helmet and skull popped.
I don't really understand the motives of these '80s movie punks who go around terrorizing innocent people, but it's especially weird to see them committing a hate crime on a burnt-up cyborg. It doesn't even seem like they're surprised to find a burnt-up cyborg and want to beat it up. They've seen it all, and they're not impressed. It seems like they must've been picked on by burnt-up cyborgs when they were growing up and now they'll take that out on any burnt-up cyborg they happen to run into in an alley. Unfortunately for them Carl is no ordinary burnt-up cyborg. He's The Vindicator.
Carl wanders around and encounters people like the punks and the little kid playing space in the junkyard. He does the DARKMAN thing of hooking up with his girl again, but since this is before DARKMAN Peyton Westlake hadn't yet invented the liquid skin yet and Carl has to talk to her from a distance. Luckily she's a keyboard player and he figures out that he can hide in the bushes and broadcast his robo-voice to her amplifiers.
The concept of a destroyed man coming back as a cyborg and still having emotional attachments to people who think he's dead also reminds me of ROBOCOP, but since this was before ROBOCOP they didn't know to make it funny and cool. They just did it regular.
The bad guy, Whyte, hires a mercenary to take Carl out – her name is Hunter and she's played by Pam Grier. She's introduced practicing with a sword master, so she's got a samurai type background but quickly turns paramilitary, leading a platoon of soldiers through the sewers trying to shoot Carl with special acid guns. Like anybody in their right mind I love Pam Grier unconditionally, but I also gotta admit that with the type of dialogue we're dealing with here and the number of times she has to call Carl "Spaceman" she's not necessarily 110% convincing as a tough-as-nails super soldier. But she does have one real badass moment when she realizes she's been lied to so she drives straight to Whyte's building, hops out of the vehicle, storms in past security and into his office still holding the gun to ask him what the hell is going on.
That's it, though. Just that.
There's another villain, Carl's best friend Burt (Maury Chaykin, who played Robert Beattie in the TV movie THE HUNT FOR THE BTK KILLER), who he asks to look after his wife if anything ever happens to him, but when he says that I'm pretty sure he doesn't mean "have me killed, live with my wife and try to rape her when she figures out what you're up to." Burt is actually kind of creepy because he seems to be the guy stuck in the fat best friend role who really wants to be the leading man and is willing to kill in a pathetic attempt to fulfill that fantasy.
Any hopes that the brilliant directorialism of 1982 Jean-Claude Lord would still be visible here go sadly unfulfilled. 1986 Jean-Claude Lord directs a cheesy movie with laughable dialogue and acting and bland camerawork. Nothing is handled skillfully enough to make you take the silly concept seriously. In terms of the Canadian genre cinema it's more like a SCANNERS sequel than a VISITING HOURS.
Wait a minute, why the fuck is it called THE VINDICATOR? Who is he supposed to be vindicating? Does it mean by getting revenge he proves Whyte's point that he can build a vengeful robot? I don't really get why he's The Vindicator. And it's important to point out that at no point in THE VINDICATOR do they call The Vindicator "The Vindicator." It should probly just be called CARL.

This entry was posted on Thursday, October 28th, 2010 at 9:42 pm and is filed under
Horror
,
Reviews
,
Science Fiction and Space Shit
. You can follow any responses to this entry through the
RSS 2.0
feed. You can skip to the end and leave a response. Pinging is currently not allowed.