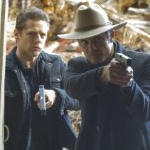 There are many great shows that have transcended or elevated the television artform, that have been compared favorably to cinema or to great novels. Some of them I've seen, some I'll catch up with some day. But Justified was my kind of show. It was full of badass bravado, dry humor, a love of language and personality. Like the Elmore Leonard books that inspired it it was accessible and unpretentious, but also smart and original. I like to think it could be enjoyed by snooty book lovers as much as by people who liked Walker, Texas Ranger.
I came to it as an enjoyer of Leonard. I remember hearing there was gonna be another show based on one of his characters, starring Timothy Olyphant, and I was curious to check it out in case it might be decent. Then I happened to see an extended preview, a clip of the scene from the pilot where Raylan meets Dewey Crowe and bangs his head against a steering wheel. And I thought oh shit, this actually looks seriously good. I'm gonna have to make an effort to actually watch a TV show from the beginning. And come to think of it I watched the entire series as it aired each week, that's pretty rare for me.
Leonard has not had a good track record on television. I don't mean in quality of adaptation, but in survival. There was that show of Maximum Bob with Beau Bridges. It got good reviews and was cancelled before I ever caught an episode. Years later there was Karen Sisco. I thought, now how do you make a TV version of a character that was so perfectly portrayed by Jennifer Lopez in the best Elmore Leonard adaptation ever? And then Carla Gugino came and changed my idea of who that character is. And that one I did manage to watch most of the episodes but again, cancelled before the season even finished. And neither show has ever been released on the home video.
So it's surprising and great that not only was Justified so good, but it had the chance to last for six seasons, continue to grow in popularity, and go out on a high note. And on purpose – I'm sure FX would've let them make two or three or four more seasons if they'd wanted to.
The pilot was closely based on the short story "Fire in the Hole," but Timothy Olyphant's version of the Raylan Givens character was pretty different from the one seen in the books Pronto and Riding the Rap (or James LeGros's interpretation in the made-for-cable PRONTO movie). Still, Leonard himself loved the first season of the show so much he got excited and wrote up a bunch of ideas for their second season, which I believe is what became the book Raylan.
The first season was great in that it was a bunch of little stand alone stories about Raylan dealing with different fugitives and criminals, introducing so many Leonardesque situations with antagonists who, though often stupid and incompetent, were given as much narrative respect as the heroes. By the second season they realized it was impossible to keep making up new fake Leonard stories over and over again and they evolved into the more normal modern approach of an overarching season-long story focusing on a new villain, in this case the moonshine loving marijuana matriarch Mags Bennett and her dumbass kids. At first I was worried that the show was abandoning its short story roots, but luckily this ended up being one of the best seasons of the show.
My favorite is the third, though. That's the one built around Quarles, played by Neal McDonough. I've been a fan of that guy in various movies but I've never seen him in a role even half that good. He's menacing and hilarious and you keep finding out he's worse than you thought. I forget how many episodes in it was when it was casually revealed that oh yeah, also he has some kid handcuffed to a bed at his place. Not a good person in my opinion.
The fourth season is my least favorite, but still very good. Both it and the fifth were wise to mix it up and try different approaches rather than coming up with a new main villain in the tradition of seasons 2 and 3. 4 revolved around a D.B. Cooper mystery about some money that went missing in a hijacking years ago. 5 suffered from some plans that had to be abandoned when at least one actor decided to leave the show unexpectedly, but I think it passes for the kind of random ways things resolve themselves in Leonard stories. There's a major character in that season who suddenly dies because he steps in a hole while holding a gun and blows his own head off knife and stabs himself. That's kind of how the season went, and I'm okay with that.
But this last set of episodes, man, they were firing on all cylinders. They knew it was the final season so they unloaded a whole clip of classic Leonard style villains. Going back over it it's kind of crazy how many cool characters they introduced and offed just this year. And here are some of the great character actors who show up in season 6: Sam Elliott, Garret Dillahunt, Jeff Fahey, Scott Grimes, Jake Busey, Shea Whigham. To me the breakout is Choo Choo, played by Duke Davis Roberts. He's a young war vet who speaks strangely because of a brain injury, who has a little more soul to him than the big dumb lug everybody takes him for. But not that much more.
I haven't yet mentioned the show's secondary lead, Boyd Crowder, played by Walton Goggins. He and Raylan grew up together in Harlan County, Kentucky and worked the coal mines together, but now he's a white supremacist explosives expert with big plans. He was supposed to die in the pilot, but they liked him so much they kept him around. In my opinion this was a weakness of the show sometimes – there definitely were stretches where it felt like they were just having to make excuses to keep he and his girlfriend/Raylan's ex Ava (Joelle Carter) on the show. Luckily by the end of a season it was usually clear why they belonged in the story, but there were times when it might've helped to give them a break. Boyd became so likable that they would have to periodically make a show of him killing a nice person or taking his shirt off to show you his swastika tattoo. Hey, remember guys, this is the bad guy.
Still, it is fitting and satisfying that the series ends up being equally about these three characters. The most enjoyable theme of Leonard's stories, from 3:10 To Yuma to Out of Sight to Rum Punch, is the relationships and shared experiences of characters on opposite sides of the law. Raylan and Boyd really are enemies, but also you can tell they really like each other. Even when they're at odds there's alot of smiling and joking. I mean, they must kinda be friends still, otherwise how did they go this long without shooting each other?
And even as it grew and got better, this show retained its sense of humor and its likability. It's a show that could've gotten away with killing off almost any character, and certainly season 6 became open season on enjoyable regulars. But I think I can say without spoiling too much (but skip to the next paragraph if you're extra spoiler sensitive) that they don't end up trying some nihilistic bullshit ending. They don't kill off a bunch of beloved good guys to teach us a lesson about life is hard or some crap like that. Man, I was sure Constable Bob was gonna get it. He was the LL Cool J in DEEP BLUE SEA of this show.
Chief Rachel and Deputy Tim spin-off is what I'm getting at, obviously. Let's have it. Because Tim is my favorite supporting character. I'm glad he got to get in alot of his dry wit in this last season.
Man, I feel like I'm writing an obituary. I am gonna miss Justified. So pour some moonshine or Kentucky bourbon or something on the curb for a great, fun show. Congratulations and thank you and what not to everybody who made that thing. And Hollywood, for god's sake give Olyphant some good movie roles. You didn't know what to do with him before, now he's ten times cooler, he deserves better than what he deserved before that he didn't get. Don't fuckin blow this, you guys.
This entry was posted on Wednesday, April 15th, 2015 at 11:42 am and is filed under
Blog Post (short for weblog)
. You can follow any responses to this entry through the
RSS 2.0
feed. You can skip to the end and leave a response. Pinging is currently not allowed.