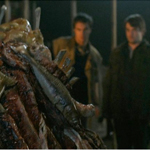 Don Coscarelli is really underappreciated. Including by me. Everything he's done is good, right? I haven't seen his first two, but one (JIM, THE WORLD'S GREATEST) is not on video and the other (KENNY & COMPANY) I've heard nothing but good things about. All four PHANTASM movies are pretty great. I like THE BEASTMASTER. I like SURVIVAL QUEST. But he's a low budget independent guy who wants to do his own thing, so he takes a while. It's been 10 years since his last movie, the one-of-a-kind BUBBA HO-TEP. It's been 7 years just since his last TV work, INCIDENT ON AND OFF A MOUNTAIN ROAD, easily the best Masters of Horror episode I've seen.
So he'll be out of sight for years and then he'll travel through the portal of time to bring us one of these distinctive sort of fringe horror-ish movies. This time he brought us JOHN DIES AT THE END, probly the closest thing he's done to an actual comedy. You could compare it to something like JACK BROOKS: MONSTER SLAYER or maybe CABIN IN THE WOODS or TUCKER AND DALE VS. EVIL, but still with enough weird, non-jokey horror in its guts to keep me satisfied. It arguably leans a little bit more to the left on the horror-to-comedy spectrum than those ones, but not by a huge amount.
I don't know if you guys remember this, but several years ago when CINDERELLA MAN came out Paul Giamatti was interviewed by Variety about CINDERELLA MAN, and he told them a filmmaker he really wanted to work with was Don Coscarelli. After years of almost playing Colonel Parker in a BUBBA HO-TEP sequel he's finally gotten his wish, playing sort of the Christian Slater role from INTERVIEW WITH A VAMPIRE. David Wong (deadpanning, Duplassian  newcomer Chase Masterson Williamson) is some kind of slacker everyman who has stumbled into the life of a paranormal crusader, and Giamatti is the journalist he tells his story to. At first I thought it wasn't much of a role for him, but then it gets to the part where he sees a weird creature and freaks out, and I knew it was worth his time.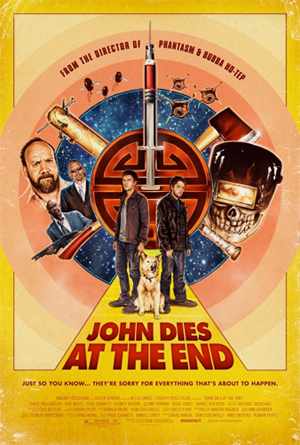 John (Rob Mayes) is Dave's weird friend, he kind of reminds me of Rob Lowe in comedy mode, a wide-eyed, intense, very positive guy who plays in a band and gets them into this world of magic when he gets a mysterious drug he calls "soy sauce" from a psychic Jamaican guy he meets at a party. The drug makes him see the future and communicate from beyond the grave and see things others don't, like human-sized insects on the ceiling and albino fruit flies coming out of people's wounds. Dave doesn't want to do the soy sauce but it's hard to avoid when you accidentally inject yourself or when a couple of pills turn into flies and buzz right into your mouth and cheek.
Now Dave and John live kind of a druggie version of the lifestyle of Constantine or Dylan Dog or Hellboy or Ghostbusters. They get attacked by demons and ghosts and shit and have to know how to handle themselves, but there's an extra does of paranoia and psychedelic confusion.
I like the tone, I think it's just serious enough, but I can't pretend it's not goofy. In one of the great early scenes a locker full of frozen meats forms like Voltron into a humanoid monster shape to come after them. The meat monster turns out to have the wrong guy, but they refer him to the correct arch-nemesis, the famous TV mystic Dr. Albert Marconi (Clancy Brown). He's known for his cheesy infomercials but he's so powerful he defeats the monster over the phone.
They get used to weird shit like a guy's mustache flying off like a butterfly, a bratwurst that works as a phone, getting rescued by a dog driving a truck, an army of naked people in Halloween masks, alternate dimensions, a doorknob turning into a penis. The idea is that this shit is all around us but most of us just don't know how to notice it. "It's kind of like the country music radio station," we're told. "It's out there in the air, even if you don't tune into it." But John does tune in, he probly has the radio station sticker on the back window of his pickup truck, so he's always experiencing more than us. He doesn't even live on a direct timeline, which leads to a major faux pas when he casually reveals to some guy named Fred that he won't be alive soon. You gotta be careful what you say if you're on the soy sauce. But he's not that type of person.
There are plenty of other colorful characters: a cop (Glynn Turman) who sees demonic things and decides the right thing is to burn it all down, a demon-possessed dumbass who calls himself "Shitload," a teenage amputee who won't take any shit. Doug Jones is a mysterious weirdo who shows up and says weird shit, and he doesn't have to wear a monster costume. There's maybe too much quirk for some people, but it works for me.
There are some good old school rubbery effects, but also some digital and some of it is kinda chintzy looking in the finale. You could tell they were stretching their budget a little, as I guess you could say of pretty much all Coscarelli movies, but that tends to be more charming when they built something than when they faked it in a computer. I'm sure the computering will bother alot of purists, but I'm okay with it. They're fake looking effects that have some personality to them. I like that type of stuff.
The title is misleading. I think John dies about a third of the way in. I don't know if that's different from the book that it's based on. I do know that I'm glad they didn't call it JOHN AND DAVE VS. KORROK OF THE ALTERNATE DIMENSION or something wacky like that. That would've put me in the wrong mood.
I doubt this will hold up years down the line as well as I think BUBBA HO-TEP does, because it's not as unique of a creation. There aren't alot of movies to compare that one to (it's a seriously sad story of an elderly Elvis Presley, but also it's about fighting a mummy in a cowboy hat), this one I already compared it to a bunch of things. It's a fun time, though, and I hope it's not too long before we see something else from Coscarelli. But I'll wait if I have to.
This entry was posted on Wednesday, March 6th, 2013 at 12:33 pm and is filed under
Comedy/Laffs
,
Horror
,
Reviews
. You can follow any responses to this entry through the
RSS 2.0
feed. You can skip to the end and leave a response. Pinging is currently not allowed.