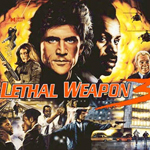 LETHAL WEAPON 3 is the third one in the series in my opinion so it brings with it certain baggage, but also certain strengths. On the negative side, it feels more concerned with satisfying sequel expectations than with actually telling a good story. Even more than the other two it feels more like a list of ideas strung together than a story. Oh, we gotta bring Leo back, he should be bleach blond and act all Hollywood and stuff, that would be funny. And Murtaugh should be trying to sell his house and they try to not mention to prospective buyers that a bunch of deadly battles took place there! Oh yeah, Leo could be the real estate agent. That's it! And Murtaugh should be retiring soon so he's all worried he's gonna get shot, 'cause he realizes how it works in movies! But then it's Leo that gets shot, he's okay but he gets all high and mighty about it, saying he got shot in the line of duty. You know how Leo is. Murtaugh should bond with a son this time, not just Rianne. Something about guns in the black community. Oh, and explosions. Bigger than before. One of those "the red wire or the green wire?" scenes could be fun. Who should be Riggs's new girl? How 'bout a girl cop? You think she's uptight, 'cause she's internal affairs, but then she knows how to kickbox!

In fact, it's alot like a series of skits. The one where Riggs gets past a guard dog by getting down on his knees, making dog noises and eating dog biscuits with him (he actually flips the dog so it helps him get away and leaves with him). The one where a Michael Bay style sassy overweight black lady (Broadway star Delores Hall) gets involved with a car chase and says funny stuff (she starts courting Murtaugh and says suggestive things to him while he cowers hiding behind a desk). The one where Riggs and the lady cop Lorna Cole (Renee Russo) strip their clothes off to excitedy show off their scars (they end up sleeping together and making lovey-dovey eyes at each other during shootouts).
[By the way, these scar-showing competitions we see in movies are weird. How do they have the discipline to start with the smallest ones and work their way up? Who is that strategic about it? You'd think almost anybody would just jump to the big guns.]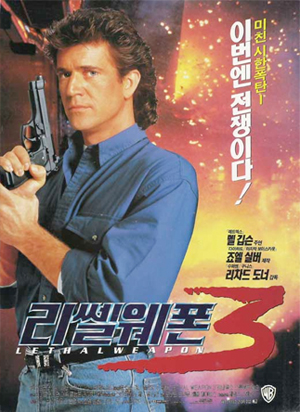 In general all this is trying way harder to be funny than the first two in the series, but missing way more often. For example Pesci, who I thought had a funny character last time, starts turning more into the grating shtick he became known for post-GOODFELLAS.
Of course that's a big drawback. But on the positive side, by the time of part 3 I really like these characters and their relationships, so it's fun to just see them again, hear them bicker, see them get into different types of trouble. It's nice to see Murtaugh's family again, see the comradery and joking around in the office again, the way the other cops enjoy and aid in Riggs's fucking with Murtaugh. When Murtaugh tries to sell his house we know the history of it including the car that went through the side, the threatening note on the Christmas tree, the duel with Gary Busey on the lawn, the bomb that blew up the upstairs toilet, the nail gun fight in the attic. It's meaningful when Riggs covers for Murtaugh's accidental gun discharge in the locker room by throwing a tantrum. They just think it's crazy Riggs, but it's partner Riggs. And it's especially meaningful when Riggs tells Murtaugh how his retirement will affect his life, the one he was gonna give up until they started working together. It's actually sad.
Also they build on the events of previous installments. Riggs has lost two loves because of his cases, now he has one who's a cop too, and can protect herself. He's been saved by a vest before, now it's a new ball game because their case is about armor piercing bullets.
In the first one the Murtaughs had an anti-apartheid sticker on their refrigerator, now they have "Fur is Dead" and one of the daughters wears a pro-choice shirt. But the left wing messages aren't just a family characteristic, they also put an anti-fur message on a big semi trailer that gets crashed into. I don't know why it would be on there. It only makes sense as a not-so-subliminal message. Wait a minute… Richard Donner is the "liberal media" we're always hearing about, isn't he?
That would be funny if the bad guys were fur trappers, but it's closer to a MAGNUM FORCE type plot where they put the supercops up against corrupt ones. The issue it's concerned with is the proliferation of guns. They never talk about changing laws, they just lament that these things exist and get out on the streets and into kids' hands. There's actually a cop stealing guns from the evidence lockers and selling them to a street dealer.
Of course, our boys still love guns. They're always running around, jumping to the ground, doing rolls and firing off as many rounds as time and supply allows. But they're special – not just because they're cops, but because they're Murtaugh and Riggs. There's a young cop, just turned 22, excellent shot on the gun range, always begging to come along with them for some action. They finally say yes and maybe two or three minutes later he's shot dead. Normal humans can't hang with Murtaugh and Riggs. Except for Leo, who goes with them on a chase at a hockey coliseum (a cool set piece). They run out onto the ice but don't join the game like Van Damme did in SUDDEN DEATH.
One of the major events of the movie is that Murtaugh kills a kid who points a gun at him, then realizes it's his son's friend. He feels so bad about it that he insists on – inappropriately in my opinion but I'm not Miss Manners – showing up at the funeral. The kid's mom slaps him, but the parents are with it enough to look at the big picture and tell him to go after the man that put a gun in their son's hand.
Murtaugh gets really upset, depressed and drunk about the whole thing. He blames himself until Riggs changes the topic to how bad the retirement is for him. Weirdly, nobody ever points out that if Riggs hadn't seen and run after those kids in the first place they wouldn't have pulled a gun and nobody would've been shot. I mean, he was just doing his job, but if Murtaugh feels guilty about what went down then Riggs should too. Was it really worth it?
Part 3 is definitely more forced than the others. Would they really still hang out with an obnoxious mob trial witness they protected three years ago? Is it really cute for an internal affairs officer to headbutt a guy and lock him in a trunk for asking for a warrant? And there's a whole lot of looped dialogue to add a joke or exposition as they walk off the set or drive to a new location. It's patched together kinda sloppily. Or, uh, they're just riffin like jazz musicians I guess you could say.
This time, by the way, the stringing together was done completely without Shane Black. Instead it was the Murtaugh & Riggs team of Jeffrey Boam (who took over the writing on part 2, but also wrote STRAIGHT TIME, INDIANA JONES AND THE LAST CRUSADE and THE PHANTOM) and Robert Mark Kamen (known for THE KARATE KID trilogy, but also writer of a ton of Luc Besson productions from THE FIFTH ELEMENT and THE TRANSPORTER to TAKEN and COLOMBIANA). Maybe that's why it doesn't quite have that same edge to it as the first two.
But I'm not blaming them. This kinda exemplifies the excesses of action movie sequels, and also why they're fun. I'm gonna go ahead and say it's the worst one, but oh hell, I still enjoyed it for what it was.