In the tradition of SNIPER and THE MATRIX RELOADED comes a movie that has the words SNIPER and RELOADED in the title. Actually this is the fourth entry in the SNIPER series and yet another example of the 21st century's trend of surprised-they-made-this, not-bad, not-great DTV sequels.
Get it, though? For The Matrix it was a computer program or something that was reloaded, for Sniper it's a gun.
The original SNIPER is a solid little movie based around 1. the relationship between grizzled vet Tom Berenger and young hotshot Billy Zane and 2. the unique premise of an action movie dedicated to firing the least amount of bullets necessary. Or the second least. Not a non-violence movie, but a painstaking-violence movie. While Rambo was spraying entire armies with automatic fire the snipers were hiding in bush costumes for days waiting for the perfect moment to fire one shot. The not-as-good-but-semi-enjoyable sequels teamed Berenger with other young partners and found reasons to have more explosions than the first time, to spruce things up.
Berenger made a great tough-older guy in the era of THE SUBSTITUTE, but these days he's wider and less mobile, and mostly does supporting roles ranging from warden (FASTER) to sick old man (INCEPTION, SMOKIN' ACES 2). Mostly sitting down, I've noticed. So RELOADED is Berenger-free and picks up with Marine Sergeant Brandon Beckett (Chad Michael Collins), who's supposed to be the son of Berenger's character (and does look like him). He's in the Democratic Republic of the Congo on a UN mission to save a European farmer who lives in the middle of hostile territory. But the farmer doesn't want to leave and then they're attacked by a rebel sniper who wounds Beckett and kills the rest of the soldiers.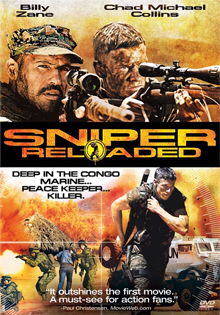 Beckett is not a sniper, but who should show up in his hospital room but a friend of his dad's, Richard Miller played by the one and only (two only if you count Arnold Vosloo) Billy Zane. And although Beckett's not really with it at first Miller gives him some lessons and sayings and shit to get him into the mind of a sniper so he can track down the fucker that did this and figure out who set them up or whatever, I forget exactly. He combines Miller's sniper philosophy with his own:
"You will never see him coming."
"Then I'll have to make him come to me."
There's also a little girl involved, 'cause the farmer had a daughter. There's a part where Beckett brings her DVDs of the Jonas Brothers and THIS IS IT, and she says she can't play them because they're region 5. I'm pretty sure this is the first movie I've ever seen that has dealt with the important movie-watcher issue of region coding, and it's also something a young European living in Africa would probly know about. So I was impressed that was in there.
During the shootouts there's some gimmicky but not too spastic camera tricks, kind of like the gun POV shots in S.W.A.T.: FIREFIGHT. After Beckett has been wounded there's a camera attached to his face to sort of show how wobbly and disoriented he is as he stumbles around, and it's pretty much the same trick they used for Yaphet Kotto at the end of TRUCK TURNER. Good shit.
I was also impressed that they have some giraffes and shit. Not in the same shots with the actors, but it doesn't look like stock footage, it looks like they actually went out and shot it. So let me be Billy Zane and teach DTV producers a valuable piece of wisdom: giraffes = production value.
Director Claudio Fah did THE HOLLOW MAN II, but this is better than that. The script is credited to sequelizers John Fasano (ANOTHER 48 HOURS, UNIVERSAL SOLDIER: THE RETURN) and Ross Helford (WILD THINGS 2-3, SNIPER 3, SINGLE WHITE FEMALE 2).
While researching this review I came across this discussion of the trailer on a bulletin board for snipers. I was gonna quote the guy who wrote:
"Hehe…I warned you guys about this one months ago. The director is an old colleague of mine and he asked for my help early on because he wanted to honestly try to make it realistic. I walked him through as much as I could on the technology and craft, but the script was obviously written by someone who lacks a background in this stuff, so it falls into the same category as similar sniper films. There were some things that were easy to change and others were just too entrenched, so I like to think it's not as bad as it could be. It was shot in South Africa on a shoestring budget and I like to think they did the best they could but there's only so much you can do."
But it gets more interesting for a minute when a poster who is apparently co-writer Fasano (also director of ROCK 'N ROLL NIGHTMARE, by the way) defends the movie and the ability of writers to learn about things they don't have a background in, and also describes some of the reasons that the "military realism" demanded on that bulletin board is difficult to achieve in a movie.
I'm already forgetting SNIPER:RELOADED (I forgot there was a sex scene until it was mentioned in that discussion) but what I'll take away from it is that Billy Zane can still be exciting. Some people don't like him, I think they associate him too much with the one-dimensionally evil guy he played in TITANIC. And they're still pissed at him for predicting that Picasso would go nowhere. But you and I know what a fun villain he was in TALES FROM THE CRYPT: DEMON KNIGHT, and I'll always respect his cornball heroics in THE PHANTOM. Here he sports a decent mustache, verging on Hulk Hogan style, and projects his original character into his older years where he's a seen-it-all sniper instructor. One of those guys that half-smiles to himself because he knows better than everybody else but tries not to be a dick about it. It's a supporting character, not a lead but not a cameo. The actual lead is fine, but whenever Zane's on screen the movie becomes much more interesting.
In conclusion, I would like to apologize to our service men and women for posting a review of SNIPER: RELOADED on Memorial Day.