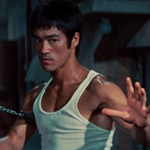 I should be back on Monday with my review of CREED, but I didn't want today to pass without acknowledging what would've been Bruce Lee's 75th birthday. Among his many contributions, consider that pretty much anyone who starred in a martial arts movie in the past, say, 35 years got started after seeing a Bruce Lee movie. So if it weren't for him I wouldn't have nearly as many reviews on here.
It seems to me there are alot of people who know of Bruce Lee but haven't actually sat down and watched his whole movies, and I think they could benefit from them. The bad news is he didn't live long enough to make very many true starring vehicles, the good news is that makes it easy to catch up with. It's not like getting into Sun Ra or Frank Zappa or something. I've even considered making an instructional pamphlet about it called SO YOU HAVEN'T SEEN A BRUCE LEE MOVIE…
In lieu of that, let me share the links to my reviews of Bruce's movies, in case you haven't read them.
THE BIG BOSS, a.k.a. FISTS OF FURY, is the first real Bruce Lee vehicle, and an early example of some of my favorite badass cinema techniques.
FIST OF FURY, a.k.a. THE CHINESE CONNECTION, is his only historical period piece type deal. It has many great and iconic scenes, though does suffer from some serious nationalism. (It has also been remade, including by Jet Li as FIST OF LEGEND.)
ENTER THE DRAGON I bet you've heard of. Great movie.
WAY OF THE DRAGON, a.k.a. RETURN OF THE DRAGON is my personal favorite Bruce Lee movie, the only one he directed, and the one where he kicks Chuck Norris's ass in a textbook-great martial arts duel.
GAME OF DEATH has the iconic fight against Kareem Abdul Jabbar in the yellow and black jumpsuit, but it's actually a horrible exploitation of Lee's death and unfinished work-in-progress. You can watch it or not, but be sure not to miss BRUCE LEE: A WARRIOR'S JOURNEY, the documentary that explains the movie he was really trying to make and then reconstructs all of the scenes he shot (the best fights he ever did). There's also a GAME OF DEATH II which is less morbid and more fun than the first one, but only has a little bit of obviously recycled Bruce footage. It's mainly about his character's brother.
Bonus points: MARLOWE, the '60s take on the Raymond Chandler character starring James Garner has a couple great scenes with Bruce as the villain's henchman.
This entry was posted on Friday, November 27th, 2015 at 10:10 am and is filed under
Blog Post (short for weblog)
. You can follow any responses to this entry through the
RSS 2.0
feed. You can skip to the end and leave a response. Pinging is currently not allowed.