It just occurred to me that there's a Fred Williamson movie I could've reviewed to go from GAME OF DEATH to DEATH JOURNEY to WARRIOR'S JOURNEY. But we don't got time for word games. Let's get rollin.
There are a whole lot of documentaries and TV episodes about the short life of Bruce Lee, so why did we need another one in 2000? Well, because this was the uncovering-King-Tut's-tomb of Bruce Lee documentaries, created by John Little, a bodybuilding expert who is also considered one of the world's foremost authorities on Bruce Lee. Little went through the archives and studied notes, sketches, outlines and footage to find out what Lee's plans were for his unfinished movie GAME OF DEATH and what footage was shot that wasn't used in the fake-beard version that was released (the Graverobber's Cut). He shows through interviews and archival business how Lee's career and evolving martial arts philosophy were all leading up to what would've been his masterpiece, a movie where he teaches all his ideas but through some of the best fight scenes ever constructed. Then Little unveils what was made of GAME OF DEATH, edited together with the takes Lee planned to use (luckily he wrote all this down!)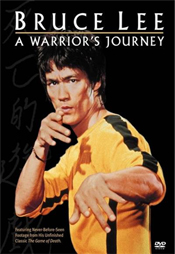 Of course you can skip to the footage if you want, but I thought the first part was fascinating and the best explanation I've seen of how he went from gung fu proponent (yes, he spelled it with a g) to his own style, Jeet Kune Do, and ultimately to not believing in styles at all. It talks about his schools and then why he closed them and how close he was with his personal students, and how he wanted to teach on a larger scale through his movies. His widow Linda talks about why he taught people who weren't Chinese, how he won that right through a challenge, how he saw himself not as Chinese but a citizen of the world. They talk about his refusal to take roles that made Asians look bad, and they mention the bullshit of why they wouldn't do his show KUNG FU with him as the star. But in an interview clip he says that he understands as a business decision why Hollywood couldn't bank roll movies with Asian leads. Of course, his success eventually changed that to some extent.
Alot of this is told very dryly with a narrator that sounds like an old educational film strip, but they also have a really good collection of clips from Lee interviews, his screen test, his office attack in MARLOWE, and a bunch of scenes that I think are from the TV show LONGSTREET but they play like a Jeet Kune Do instructional film with Lee counseling a student about his philosophy of fighting. They show outtakes from GAME OF DEATH which is pretty cool, seeing Bruce and Kareem laughing after takes and Bruce doing the nunchaku spins over and over, mad at himself every time it's not perfect.
(can you believe that? Bruce Lee sometimes messed up on the nunchaku spins. So don't be too hard on yourself when you screw up something you're doing. Just try again.)
Then the movie explains what GAME OF DEATH was really supposed to be about. Forget the entire plot of the Clouse movie – there's no movie actor Billy Lo, no faked death, no revenge. Bruce was gonna play a fighter who had retired undefeated. A Korean crime syndicate wanted to steal a treasure hidden in the top of a 5-level pagoda. No guns are allowed in the village, so a master fighter of different disciplines guards each level. Bruce's wife and kid are kidnapped in order to force him to lead some other fighters into the pagoda and clear the way to the treasure.
So as Bruce works his way through increasingly hard levels he shows his philosophies of being like water, not fearing death, etc. He completed filming three of the levels before stopping to film ENTER THE DRAGON, so those are shown in WARRIOR'S JOURNEY.
If you've seen GAME OF DEATH you've seen some of the best stuff, but not all of it. And it all plays way better in this context. The big difference is that Bruce has two accomplices with him. So there's plenty of great fight footage that was choreographed and directed by Bruce Lee but the GAME OF DEATH producers didn't think anybody gave a shit because he wasn't the one fighting. The best is when one of his partners goes ahead of him to the final level (Kareem) while he's still fighting downstairs. I can't believe they watched this footage and decided not to fit it in. There's a real "Holy shit!" moment where the guy tries to flee up the stairs so Kareem just jumps up, grabs him and tosses him down. It's basically an alley-oop skyhook with a human body instead of a basketball.
Another great moment is when some sand falls on Bruce's head, he looks up quizzically as the ceiling thumps and quakes like a dinosaur is walking around upstairs. And it cuts to the guy rolling around on the floor and Kareem is trying to stomp on him.
The way Bruce defeats Kareem is different too. A window is broken that causes the sun to shine on Kareem's face, and he figures out that this guy's eyes are very sensitive to light. Not sure if that's a birth defect from being a giant or if he's turning into a moleman from sitting around in a dark pagoda all these years. It seems like a pretty Hollywood touch, actually, so I'm surprised they didn't use it. But I guess their whole goal was just to show that Bruce Lee had awesome kung fu, and nothing else.
That also explains why they didn't use the great ending where Bruce tries to stumble back downstairs but is so exhausted he has to break out a window and yell for the Koreans to come get him. It's very fitting that he doesn't even go up to the treasure himself. He doesn't want the treasure. He's just fulfilling his obligation to get his family back.
The chunk of footage pretty much works as a little mini-movie, even though there's no set-up. It's some of the best fight scenes you've ever seen, and it's kind of funny how Bruce talks about the philosophy of what he's doing, sometimes in voiceover. It sounds like it's his real voice, although Kareem and another guy's lines are obviously added by them decades later, reading dryly from a script. But that adds to the weird HOLY MOUNTAIN sort of feel of these encounters.
I rented this as a stand-alone DVD before realizing it was included as an extra on the such-and-such anniversary edition of ENTER THE DRAGON. If you have that one, please make your way to disc 2. This is more than just an extra. It's a pharaoh's tomb.
(don't worry, it's not cursed. Only blu-ray extras have high enough resolution to be cursed)
This entry was posted on Tuesday, May 25th, 2010 at 11:58 am and is filed under
Documentary
,
Martial Arts
,
Reviews
. You can follow any responses to this entry through the
RSS 2.0
feed. You can skip to the end and leave a response. Pinging is currently not allowed.