13 ASSASSINS is a pretty straightforward and thoroughly badass samurai picture from director Takashi Miike. I know that guy's known for making 2 or 3 crazy fucked up movies a year. I think the only one I've seen before is AUDITION, which I thought was a pretty good romantic comedy but not quite up to the hype as the most fucked in the head movie you ever saw. Pretty well done though. Anyway, this is different.

Because it's about a team of samurais on a mission people have been comparing it to SEVEN SAMURAI, but leave it to me to point out that there's also a dash of OUT FOR JUSTICE in there. 'Cause it's about a crazy maniac who has gone too far and the heroes are gonna go find him and put him down like a rabid dog. The only difference is 1) the crazy guy is related to the shogun and about to move to a higher political position, so a part of the government is secretly conspiring to take him out for the good of the people and 2) nobody wears a beret.
Actually it's also like STAND BY ME because there's a part where they get leeches on them and get grossed out. And they're on a trip to see a dead body. It's just not dead quite yet.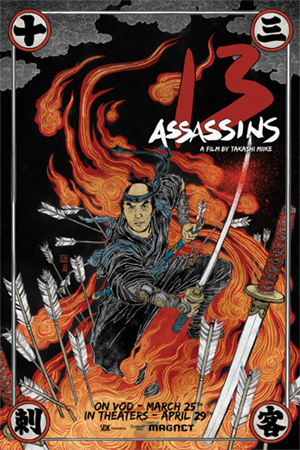 If there's a part of the movie that fits with Miike's reputation it's the beginning "just how evil is this guy?" portion to establish why this guy Lord Naritsugu is dangerous. We learn about the time he raped a houseguest and then chopped up her husband. If that wasn't enough, we see him joyfully shooting some little kids full of arrows. Then (most fucked up by far) we meet the mute quadruple amputee he had as his sex slave until he got tired of her. This is not a good guy. I would not vote for this guy.
Samurai movies are so interesting to me because they always have to deal with these codes of honor. Alot of it makes sense to us and alot of it seems completely insane. For example if you want to avenge a murder and rape what you do is you kill yourself in protest. That'll show 'im! Things are pretty different in our time period and culture. We only kill ourselves because we're depressed and fed up with life. They had rules about it. I don't know which one is worse.
Samurai movies definitely have alot in common with westerns, that's why those samurai-to-western conversions have worked so well for Leone and others. It's a time when the government had less control but could be more brutal, when parts of the land were lawless, when small towns could be terrorized by people with the right weapons or skills, when it made sense for a drifter to travel around and get into fights. But the strong emphasis on ethics and codes is unique to the samurais and makes it even more interesting than westerns sometimes. Two men who like and respect each other can fight to the death over differing interpretations of ethics.
There's some of that going on here, but the genius of the movie is its simple structure. There's plenty of plot but it's within this basic idea of a mission to kill a dude. It pretty much breaks down into two sections:
Section 1: "We've Gotta Kill This Motherfucker"
They make their case of what's wrong with the guy and why it must end, this guy Shinzaemon is hired to assassinate him so he recruits his team and they figure out where to do the deed. It's exposition but also tension and building excitement and anticipation.
Section 2:  "Killing This Motherfucker"
They trap him and use their superior strategy and skills to pick apart his seemingly superior army, Ewok style. (They even have bridges and a guy swings on a rope at one point. No hanggliders, though.)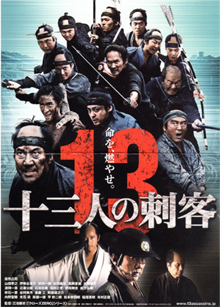 After one viewing I couldn't tell you the personalities of each of the 13. I mean, look at all those guys over there, how can I remember all of them? Don't say it's racial, I can't keep track of who all those people are in the Harry Potter movies either, it's just alot of information for my brain to take in. I gotta remember PIN numbers and email passwords, who directed each of the Nightmare On Elm Street sequels, shit like that. There's only so much space there.
The 13 ASSASSINS are not as distinct as the DIRTY DOZEN I don't think. But they do introduce them in section 1 as the team is being Ocean's Elevened, and there are several that are memorable to me. There's the stoic old ronin, the eager young rookie, the crazy hill person who always complains that he hates samurai (wikipedia claims that he might be a demon, but luckily I didn't pick up on that). And they have character arcs within the battle. They learn things, some of them. They come to conclusions. They build relationships. See, you can have a movie that's mostly one long action scene and still have, like, characters and shit in it. It can be done. It should be done.
The action is right up my alley. Lots of swords, lots of bows and arrows. Our 13 strategically confine their prey by walling them in and maintaining the higher ground, standing above them on walls and bridges. It's almost literally shooting fish in a barrel, if the soldiers were literally fish and if the walled-in area was literally a barrel. Our boys have some special treats waiting for Naritsugu's men too, including explosives and a thing I won't give away that took me a little out of the timelessness of the movie because it's a digital effect but still, pretty good idea, assassins. Hats off.
There are more classic Badass Moments than usually fit into one movie. Miike takes the time to make them look awesome. There are some great shots of them standing above, in control, shrouded in the smoke from the bombs they set off.
I like when the old guy stands with the rookie behind him, facing an overwhelming horde. It kinda looks like they're done for, but he knows better. He tells his young apprentice to kill anyone that gets past him. That's confidence.
Or what about how that poor quadruple amputee uses her mouth to write down what the guy did to her family, and then later they use that as a war banner? Tragedy turned to vengeful boast.
Naritsugu has his head samurai guy, an old friend of our team's head samurai, they try to talk it out and convince each other of their point of view. I feel more like he's a guy that I'm mad at than a guy that I hate. The enemy troops have personality too. They look nervous sometimes. They hesitate. They're not stupid. They're trying to do their job.
But they're not as dedicated to their job as our 13 are. That's the key. If you're in the big ass army and you're fighting these few guys you're more likely to think "fuck it, let me stand at the back, I'm not getting my arm chopped off for this one." During the recruiting and training phase (the Gene-Hackman-prisoner-rescue-runthrough-in-UNCOMMON-VALOR section) Shinzaemon explains the mission statement: if you don't have a sword, use a stick. If you don't have a stick, use a rock. If you don't have a rock, use your fists. And later they kind of go through that. They do use sticks and rocks. I don't think they actually get to fists, though. That's too bad. I like fists.
I don't think all of Naritsugu's soldiers are willing to fight with rocks and sticks if it comes to that. They don't have that kind of work ethic. Therefore, as his army's getting slaughtered you'd think Naritsugu would get scared and want to run home to mommy. But you'd be wrong. Actually he really enjoys the whole experience and it makes him realize he wants to bring back the good old days of The Age of War. So now if they fail to kill him it's gonna be a major fuckup, giving the bastard ideas, making things way worse.
But, you know. WELL-ENDOWED SPOILERS FROM THIS POINT ON. Ladies and gentlemen, we got 'im. Of course they're not gonna just kill him with a lucky arrow or something. This is gonna be personal. It has to all be leading to a one-on-one duel between head assassin Shinzaemon and murderous nutbag Naritsugu. Our guy makes it very professional. He actually lists all the people he's avenging, which I'd like to see more often in revenge movies, makes it more formal. In the fight Narigitsu is finally dirtied – his usually pristine white robe gets covered in mud, the beginning of the end. But he's still having a great time! He thanks Shinzaemon for the most exciting day of his life.
"You're welcome," Shinzaemon says, and lobs the fucker's head off. It's a great badass moment, makes you applaud or laugh. I mean, it would be hard to create a villain more worthy of death. When you see the glee on his face as he shoots arrows into little kids you are pretty sure he's not gonna be rehabilitated, and you're eager to sign on with the assassination mission. He's as sadistic as they come, he does not deserve a glorious death. He deserves for his death to be the exclamation point on the end of a perfectly delivered punchline.
But then you think about all those codes, and the bonding between warriors. The way this mission sort of brought meaning to an old man's life, and an understanding to pass on to the next generation. In retrospect you think hmm, maybe that wasn't a Schwarzenegger type one-liner. Maybe Shinzaemon meant "you're welcome" sincerely. Cutting off the head can be a sign of respect I believe. I'll have to check the code. Maybe in the end he does kind of feel sorry for this crazy fuck, and doesn't mind that he had this little fun game with him. Not like he's gonna let him go, he still has to knock the king over on the board, but there's alot to read into what's going on here on top of or beneath the obvious part, the part where he chopped off the guy's head and it was awesome.
What I'm trying to say is that 13 ASSASSINS delivers fully as a badass action movie, and then it leaves you a few other things to ponder if you want. That's my definition of a great movie.