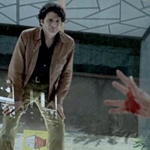 THE BIRD WITH THE CRYSTAL PLUMAGE is a Dario Argento movie I hadn't seen before. This is his directational debut, so it shows what he was up to before the ones I'm most familiar with, DEEP RED, SUSPIRIA and INFERNO. He's not yet the sicko artiste who made those three, but you can see him headed in that direction.
An American writer (Tony Musante) visiting Italy happens to be walking across the street from an art gallery one night when he sees a struggle going on inside. He runs over but can't get into the large, plate glass storefront. He knocks on the window but is forced to just watch as a stabbed woman lays bleeding on the floor inside. Then he gets trapped behind another wall of glass. Another passerby brings cops in time to save the woman, but this American at the scene of the crime, and planning to leave the country soon, that doesn't look too good. So they confiscate his passport.

Let me tell you, I'm a little scared of you, Italy. I feel comfortable in a crowded urban environment, but being out where it's quiet and lonely, out in the middle of nowhere, that can be creepy to me. I have this false image of Italy from these movies, it's a real beautiful place, full of beautiful women in hip 70s clothes. There are ancient buildings and artifacts, big libraries, wine, cigarettes, art, nice people. But you never know where some gloved-sicko or ancient evil is waiting for you. You can get into some shit and the police aren't gonna help you that much. You're on your own.
It's like this girl who lives in Seattle, I never met her but several years ago she worked at a coffee shop some of my friends frequented, they liked her, thought she was cute. She was a student at the University of Washington and then went to study for a year abroad in Perugia. I think she was working at a bar there, she had a boyfriend and friends and everything, having a good time, then one day she comes home and her roommate has been stabbed to death. Well, they arrested the guy who apparently did it, but also they arrested this girl and her boyfriend, accused them all of killing the poor woman during an orgy. The prosecutor and the Italian media pulled some West Memphis Three type shit, smearing her as an alleged slut, saying because she smoked pot and wrote some violent short stories she must be a murderer.
After serving 4 years of a 26 year sentence and having Hayden Panettierre play her in a Lifetime TV movie the conviction was overturned and she's back in Seattle, but now they've overturned the overturning and are currently double jeopardying her in absentia. Can you imagine that? Stay out of Europe, young Americans. Either you're gonna get HOSTELed or you're gonna get TAKEN or you're gonna get set up for a murder. Boycott Europe, I say. Go somewhere else nice, like Wolf Creek or somewhere.
But this guy in THE BIRD WITH THE CRYSTAL PLUMAGE is a dude, so they don't call him a slut and they don't arrest him. After the incident he keeps getting attacked on the streets and at home, so he decides to investigate the previous murders that the art museum attack was linked to by the police. It's one of those movies: he investigates various clues, goes out to talk to different people, records the threatening phone calls he gets. He goes to an antique store to inquire about a painting one of the victims bought – a nice winter scene with a girl getting stabbed. He tracks down the painter, and since this is an Argento movie and not Murder She Wrote the guy is a weirdo whose house is only accessible by ladder and who traps cats in cages to use for meat. He is a hairy guy with a beard, but I think he's supposed to be a human, not ALF.
Another memorable scene is where a mysterious dude starts shooting at him on the street. He tries to catch the guy, who is wearing a very distinctive yellow hipster leather jacket with lettering on the back. He chases him into a hotel, and into a banquet room… where there's some kind of race car driver convention where everybody wears that same jacket! What the fuck, man. Not fair.
In the '80s, many horror movies were about debauchery, young people who love to drink and sneak out and have sex somewhere, maybe smoke a joint. You're kinda supposed to relate, it's supposed to be a fun time, but then they get killed in kind of a judgmental way, it often seems like maybe they were supposed to deserve it for being naughty. Sex = death, just like in the Italian prosecutor's fantasy of the murderous orgy. This was 1970 though, so it was more of a hippie mentality. This guy Sam stays with somebody that seems like his Italian girlfriend, but I notice she's wearing a wedding ring. At one point they get on the bed and start taking their clothes off while their friend is still sitting in the room. But it's supposed to be cute, not scary. Ha ha, you guys. They also have a poster on their wall that says something about Black Power. They had more on their mind than partying.
The music is by the great Ennio Morricone, with some eerie vocals. Good stuff, though not as memorable as the Goblin scores on the later Argento movies. This is more of a traditional giallo, a normal murder mystery without the dream logic or extreme stylization Argento would soon master. Comparing it to DEEP RED really emphasizes how important the GOBLIN music and visual style are to that movie's success. This one's not full Argento, but it does have some glimpses of his fetishes: murders where we only see the leather gloves worn by the killer, knives laid out ritualistically, an all white art gallery, secrets hidden in artwork, past traumas that trigger insanity. There's a scene where the killer stabs a hole through a wall and chips away at it as if tunneling through. Trapped in a room on the other side, his target sees an eye looking through the hole, runs toward it and stabs back through the hole. But she gives herself away by screaming as she approaches.
Note that the protagonist is an American writer visiting Italy, in DEEP RED it's a British musician, in SUSPIRIA it's an American dancer. Lots of visiting artists in his movies.
The title is so weird and kinda creepy in the way it conjures up a strange image with no obvious meaning. It turns out to relate to a pretty standard mystery trope, the "sound heard in background of recorded phone call that eventually identifies the location of the caller" (see also COOL AS ICE). His buddy hears the recording and says he recognizes this clicking sound, but can't place where he's heard it. Later he figures out that it's the sound of an extremely rare bird. This is the big break in the case because one of these birds lives in a zoo and they figure out that the call came from next door to the zoo. But the way he explains it is not "it's this bird they have at the zoo!" Instead he says how it's the sound of a bird that only lives in Siberia. It is impossible to live anywhere else. He makes it sound useless for a while before oh yeah and also there is only one in captivity and it's nearby here. Such a drama queen.
Pretty good. I would like to see a remake from the bird's point of view. Found footage but with a bird in the zoo instead of a video camera. Other than that it doesn't need improvement.