Man, here's a solid little movie with a clever genre-mixing premise, nicely acted and directed, a fun time, but owned by the Weinsteins. So of course it was barely released or advertised. These pricks got a quiet, sad drama based on a Pulitzer Prize winning masterpiece, they're gonna pretend it's some sci-fi action movie. Meanwhile they got this one that actually is a sci-fi action movie, but they forgot they even had it. "Oh shit, did we release that viking thing? I can't remember. Just send some DVDs to Blockbuster and tell them not to mention it to anybody."
Oh well, at least it snuck out. The cover art is pretty cool too, and it uses one of those critic quotes that isn't really a compliment but just a description: "PREDATOR meets BEOWULF." And that's accurate. A space ship crash lands in Norway, 709 A.D. A survivor climbs out wearing a space suit that looks alot like a suit of armor (surprisingly that doesn't come up again later). He's Jim Caviezel, and I wasn't sure at first if I was gonna accept aliens that look just like humans, but when he looked up Earth on his computer it said we were an "abandoned seed colony," so I guess we all come from the same place. Brothers from a different mother.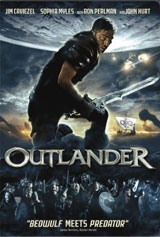 Anyway, something deadly got off that ship. He goes after it, but it's already decimated a village ahead of him. He ends up captured by the vikings (who think he's a foreigner, not a spaceman) and blamed for the attack. The attack is a big deal because it could start a war between John Hurt's people and Ron Perlman's.
And then he becomes a viking. The spaceman part is less important than I expected, this is mostly a vikings vs. monster movie. Doesn't matter that much that the monster is from space, it might as well be a dragon. The outlander has to prove himself as a warrior, convince them of the existence of the monster (called a moorwen) and help them kill it. The sci-fi angle is mostly important for the flashbacks, where we learn where the moorwen came from. That's my favorite part of the movie. You find out this monster is basically an endangered animal on a rampage. You gotta feel sorry for that thing. I mean it's like an elephant that gets loose from the circus or something. It's dangerous, but what did you think would happen when you locked up an elephant and started beating it until it did tricks? This guy Caviezel knows what he did to the moorwens was wrong, but at the same time he feels it's his responsibility to kill it (like the dragon in BEOWULF). So there's some moral ambiguity there.
Ron Perlman's not in it that much, but he's a cool character with a bushy beard, bald head and face tattoo. The type of dude battle axes were invented for.
The monster is cool if not perfect. There's parts where you see him running around and he has that weightless look most CGI monsters have. That's a problem. But otherwise he's great. He lights up from the inside, a good look in the dark. He's a vicious fucker too, with one especially good move where he impales a guy on a light-up tentacle and then pulls him through a wall. His face looks a little like the American Godzilla, so I'm sure the other monsters give him alot of shit about that. Maybe that's why he acts out so much.
If they ever did a sequel to this I'd want them to get some sci-fi weaponry vs. viking action. Maybe some asshole viking finds the laser gun that the outlander dropped in the water at the beginning, and it takes a whole army to stop him from fucking shit up. Or the other spacemen come back and try to colonize but the vikings fight back. You know, I just want to see an underdog viking vs. alien technology battle. It's not something that comes up every day, so when it does you want to see some vikings swinging axes at flying saucers and shit.
This is one of those small surprise gems like what PITCH BLACK was to some people. I actually think it's better, or at least the visuals and production value are better and I enjoyed it more than I did PITCH BLACK the first time. The monster is definitely better. There's not a memorable badass character like Riddick, so that point goes to PITCH BLACK. But anyway, good movie. You wouldn't guess it from the director's resume either. He directed some kiddie movie starring Robert Hays and wrote UNDERWORLD: RISE OF THE LYCANS. But now he can hold his head high like a viking.
This entry was posted on Tuesday, May 19th, 2009 at 6:39 pm and is filed under
Monster
,
Reviews
,
Science Fiction and Space Shit
. You can follow any responses to this entry through the
RSS 2.0
feed. You can skip to the end and leave a response. Pinging is currently not allowed.