Now that GI JOE: RETALIATION has become GI JOE: PROCRASTINATION that means the big Bruce Willis movie of the summer to hold us off until EXPENDABLES 2 will have to be Wes Anderson's MOONRISE KINGDOM. Bruce plays Captain Sharp, head of the Island Police, New Penzance Township, charged with the task of capturing a fugitive – Sam (Jared Gilman), a disturbed young orphan gone AWOL from the Khaki Scouts of North America, Troop 55, to run away with his also disturbed pen pal/girlfriend Suzy (Kara Hayward).

Sharp's sense of loyalty to the clueless locals and their lifestyle is reminiscent of Chief Brody in JAWS, but his lonely personal life is a little more Sheriff Teasle in FIRST BLOOD. He lives alone in a small trailer, subsisting on meat and beer, hopelessly in love with a woman who could never fully be his (Academy Award winner Frances McDormand from FARGO and HASBRO'S TRANSFORMERS DARK OF THE MOON 3D IMAX EXPERIENCE).
This is what they call a two-hander. Sharp is teamed with a younger man from a different agency, Scout Master Ward (Edward Norton of THE ITALIAN JOB and THE INCREDIBLE HULK). Together they must track the fugitives, backed by the overzealous scouts of Troop 55, pitting their organization against the kid's cunning and commendable camping skills. He's probly not trained to eat things that'd make a billygoat puke, but he does know alot about pullies, tents and fishing. He probly has patches that are so secret he can't even show them to anybody.
Bob Balaban plays the narrator, who breaks the 4th wall to tell us about the setting, but also shows up briefly in the Colonel Trautman slot – the guy who knows how the escapee's mind works because he taught him everything he knows. Or at least, everything he needed to know to earn his cartography badge.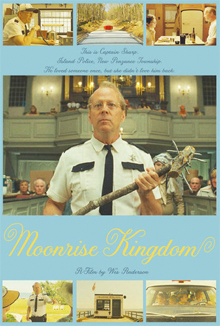 As the man in charge Bruce also has to deal with the bureaucrats at Social Services – specifically one bureaucrat only ever referred to as "Social Services," played by Tilda Swinton (CONSTANTINE), while Ward has to face the scrutiny of a higher ranking scout master, Commander Pierce (Harvey Keitel, RESERVOIR DOGS, BAD LIEUTENANT). Like in ARMAGEDDON Bruce finds himself struggling against the very forces of nature. Like in DIE HARD he scales a tall building with something tied around his waist. Like in MERCURY RISING he has to be nice to a little boy.
You know what, this is weird but come to think of it I kind of feel like this movie is really more about the kids than about Bruce. I mean that's only my opinion, but I stand firmly behind it. You have the right to disagree. Bruce does have a bigger part than in THE EXPENDABLES, and bigger than Bill Murray (playing another sad guy), but he's not exactly the lead.
I guess I haven't reviewed any of the Wes Anderson pictures. I like them. So few people making comedies are also good at making pretty pictures. For Anderson the visuals and filmatism are a big part of the humor. I think his movies are funny and charming and they have a nice humanistic way of valuing their obviously flawed characters. I like ROYAL TENENBAUMS starring Gene Hackman (THE FRENCH CONNECTION, UNFORGIVEN) the best because I see it as an "assholes are people too" message movie. Try to appreciate your dad even though he fucked up, it says. Even though he calls a black guy "Coltrane" for some reason. He should be taken to task for being an asshole but then you should try to still talk to him.
Anderson is one of those filmatists that has such a unique and distinctive style of visuals, humor, and even soundtrack that it demands both a devoted following and a hateful backlash. Forgive me if I wrote this somewhere before, but I was waiting in line for one of his movies a few years back and I was looking around at the people and I realized alot of his fans dress kind of like the characters in the movies, with scarfs and outdated jackets and shit. And the only other director I could think of like that was Tim Burton. They sort of created this alternate world and people fell in love with it and wanted to be a part of it and so eventually it gets to the point where the other people hate those people so much that they hold it against the movie. So a negative review of a Tim Burton movie is gonna almost always have some comment about "Hot Topic" or "emo" or other things that push buttons in young people but that didn't even exist when Burton started what he was doing. And I'm sure people will hold "twee" or "hipster" or whatever against Wes Anderson too. I don't really get any of that stuff so I'll stay out of it.
Anyway, if Wes Anderson rubs you the wrong way then you should probly kill yourself before trying to sit through this one, but if you're into his shit this will instantly be near the top of your list. My sense is that it's probly his second best non-cartoon after TENENBAUMS. After doing the stop motion animated FANTASTIC MR. FOX I think Mr. Anderson's been emboldened. He's gone even more extreme with his style of turning the world into an obsessive-compulsive show-and-tell diorama. It's kitschy art design overload with careful attention paid to every detail (the raccoon logo on the hilt of Ward's pocket knife, the various badges and buttons, the Indians painted on the side of the canoe, the covers of Suzy's stolen library books, the maps, the tents, the collections of equipment, the costumes for the Noah's Ark musical…) Sometimes there are cartoony physics, and even cuts to animation or miniatures with little attempt to look real. I like it.
There's always a home-made, childlike vibe to Anderson's movies, with so much based around the technically crude but meticulous drawings that his brother does. They're not slick but there's a Stanley Kubrick or Where's Waldo type attention to detail. Alot of his characters (Owen Wilson in BOTTLE ROCKET, the kid from RUSHMORE, the kid from this one) tend to overthink everything, overplan, make little charts and diagrams and maps and outlines. This is their weakness and their charm and the general feeling of the movies themselves. The movie's attitude toward all this cataloging seems to be "I know it's silly, but I love it." And it's contagious.
He's got more kids than in previous movies, which makes it seem even more like a live action Peanuts than usual, except that there's a dog named Snoopy and things… well, they don't turn out well for him. I think this is Anderson's first non-cartoon that's not rated-R, and it's probly okay for most kids, but it's the old fashioned okay-for-kids where you don't have to coddle the little fuckers. We sympathize with these two misfits because they're misunderstood but also because they are a little crazy. Suzy even ends up stabbing a kid. (Because it's a Wes Anderson movie her weapon of choice is a pair of child-sized left-handed scissors.) Also they strip down to their underwear and the boy feels up the girl. But they're so clueless it seems innocent. They're just doing what they think people in love are supposed to do. They don't get it.
These kids are really funny. So un-self conscious. I feel like an asshole saying this but the girl is way out of the boy's league. What's great is that he's so self assured it never seems to occur to him, and becomes irrelevant. Their love affair begins when he gets bored during a play, wanders into the girl's dressing room and singles her out to question about her bird costume.
His main quality would be despicable in an adult but is cute in a little kid: he's constantly trying to share the information he knows about survival, animals, sucking on a pebble to keep from getting parched. Just trying to be helpful. Maybe what's refreshing about it is that so much comedy now is about awkward people embarrassing themselves. It's relatable so it works. But here's an awkward kid that doesn't give a shit about it, refuses to acknowledge it. You could say he's hurt that so many people don't like him, but it plays more like he's pissed because he knows he's awesome and he demands to know why these people won't give him credit for it.
It's a humor that's so dry and specific it's hard for me to even put a finger on how to describe it, and when other people try to do it it in movies and commercials it seems like a sad rip-off. He's the only one that can do it right. Skip this part if you haven't seen it: the biggest laugh for me is after the death of Snoopy, when Suzy asks "Was he a good dog?" and Sam's response is, "Who's to say?" Of course he should just say yes, but he's thoughtful and intellectually honest enough that he chooses instead to question man's right to judge a dog. And this doesn't turn Suzy against him. She seems to respect it. That's why it's love.
What other filmatist offers characters like that? Maybe the Coen Brothers, that's about it. I'm glad Anderson keeps doing his thing, and so far he keeps getting better at it.
I'm not really sure what the title means though.
This entry was posted on Monday, June 11th, 2012 at 2:00 pm and is filed under
Bruce
,
Comedy/Laffs
,
Reviews
. You can follow any responses to this entry through the
RSS 2.0
feed. You can skip to the end and leave a response. Pinging is currently not allowed.