Arnold Schwarzenegger is… THE RUNNING MAN. That's actually what it says on the credits, which makes me feel good, makes me proud to be an American. In fact, I'm gonna make a new tag for this review called "is…" If you can think of some other movies where the star "is…" the title, let me know. But only if it's in the actual opening credits, not just the trailer or the poster, at least for now. We'll see how many we can find.
THE RUNNING MAN was a book Stephen King wrote in 1982 when he was on the lam and hiding out under the alias Richard Bachman. I read it back in the '80s so I don't remember it in much detail, but I'm pretty sure it wasn't the same kind of goofy cartoon shit as the movie. It was about a brutal game show of the future where contestants tried to get across the country without being killed. I think there were bounty hunters after them, but also they'd become famous through the show and regular people would try to kill them to collect a reward. It's like American Idol except instead of participating by calling in you do it by shooting at the guy. The main character was kind of like Kowalski in VANISHING POINT, he ended up capturing the hearts of everybody at home and they started rooting for him to get away.
The book was written before "reality TV" even existed. There wasn't even COPS or THE REAL WORLD. It could've been influenced by DEATH RACE 2000, but I still give King credit for predicting this type of shit. When THE AMAZING RACE started I thought shit, we're half way there. Just cross this with AMERICA'S MOST WANTED.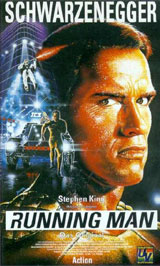 But the movie crosses it with AMERICAN GLADIATORS, which is kind of dumb but fun in its own way. They put the contestants in an enclosed maze, make them wear shiny jumpsuits and send "Stalkers" after them – fighters with corny nicknames, costumes and gimmicks. The best are Sub-Zero (Professor Toru Tanaka with a bladed hockey stick and exploding puck), Fireball (Jim Brown with flamethrower, jetpack and skunk stripes in his hair), and Dynamo (a fat guy in light-up Spartan armor who sings opera and shoots electricity from his hands). In the studio old ladies from the audience tell the host Killian (Richard Dawson from FAMILY FEUD) who their favorites are, in the streets people bet on who will draw first blood. They're blood thirsty but mostly they're brainwashed – they've been taught these are the good guys so they root for them. When the actual good guy fights back they don't approve of his violence.
That good guy is… Arnold Schwarzenegger. He was a cop working in a police state who refused a command to fire on unarmed rioters. So they locked him up. The corporate/state media plays edited footage to make it look like he did fire on civilians and play him up as a villain for their TV show. Meanwhile, Maria Conchita Alonso (Salma Hayek of the '80s) is a network employee who figures out he's innocent, so they say she's a ho and put her in the game too.
The satire is broad, but pretty good. When Killian needs to pull some strings he first calls the Justice Department – Entertainment Division, then changes his mind and calls the president's agent. To cover the legality of becoming a contestant they appoint an agent, not a lawyer.
More than the ol' "people want violent entertainment" saw it makes the more important point that no matter who runs the media – in this case both corporations and the government, because they're the same thing – it creates a conflict of interest in the news. So they tell the story misleadingly to make the government look good, to cover up wrongdoing, and to sensationalize things for the sake of ratings. Very prescient points by THE RUNNING MAN.
Schwarzenegger had already done PREDATOR, but it hadn't come out yet when he filmed this. His character is pretty cool, but not that cool. He chews a cigar, busts out of prison, reluctantly helps a revolution. In prison he carries a pylon on his shoulder like he carried a log in COMMANDO. The script is by Steven E. De Souza, always trying to prove that DIE HARD was a fluke. This probaly has the worst one-liners of Schwarzenegger's career until BATMAN AND ROBIN. In fact this movie specifically might be what they were making fun of with that "McBain" character on the Simpsons cartoon. I think every time he kills somebody he makes some terrible pun. I guess my favorite is when somebody asks what happened to the guy he just sawed in half, and he says, "He had to split."
You know that dumb cliche where the hero faces down the villain and repeats back some line the villain said earlier, to show that the tables have turned? In this he says a whole series of lines. How did he remember all that? I didn't even remember it and I experienced it in movie time. I doubt Killian remembers where it came from either, the irony has gotta be lost on him. That's not cool.
It is cool that they got Richard Dawson to be in this, and that he does a good job. I'm surprised he was willing to play such a bastard. That's gotta be a movie first to have a real game show host playing an asshole villain. I don't know of another one until Bob Barker's cameo in HAPPY MADISON.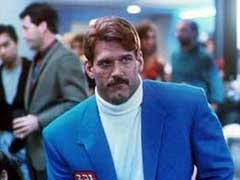 It's also great to see Jesse Ventura in here as Captain Freedom, a retired Stalker who wears a blue blazer like an NFL commentator. After Kimball kills all the other Stalkers Captain Freedom is forced out of retirement. But he objects – not because he doesn't want to die, but because "ten years ago I used to kill guys like that with my bare hands" but now they got him wearing a mechanized arm. He talks about how it used to be a sport of honor. That might be the best thing in the movie: a killer nostalgic for the more honorable early days of the brutal dystopian murder-sport. Even when society is crushed by tyranny you can count on everything going further downhill.
At least that's my favorite touch in the movie. Yours might be the part where Alonso claims the reason she still has a crucial digital video disc is because she hid it somewhere sensitive, i.e. her butt or her girl area. It's supposed to be a throwaway joke but if you stop to consider the logistics it's pretty ridiculous. If I ever watch this again I'm gonna be looking to see if she sits comfortably or not. I wonder if Alonso kept that in mind for all those scenes. You know, most movies are shot out of sequence, so the director probaly says "Okay Maria, in this scene you are being chased by Dynamo, and he's trying to electrocute you. So I want you to come over here, here's your mark, and you turn this way and you call out for Kimball. And don't forget you have a floppy disc up your kooch. Okay, let's go."
With this type of satire in a sci-fi action movie you can't help but think of Paul Verhoeven. But enjoyable as it is, this is no Verhoeven (who Schwarzenegger would work with three years later on TOTAL RECALL). It's way better than ROBOCOP 3, but it has that same approach of having the heroes realize what a fucked up world they live in and fighting against it. Part of Verhoeven's genius was presenting this horrible world and then pretending he thinks it's okay. This one also doesn't push violence the way Verhoeven does, or the way BATTLE ROYALE would years later with a similar premise. There's one exploding head from far away. Apparently the producers made them cut other ones out.
Speaking of the producers (who include Rob "THE FAST AND THE FURIOUS" Cohen), I blame them for this movie not being great. Their job is to find somebody who can make it well in the alotted time and budget, but they failed to find that balance. They first hired a pre-ABOVE THE LAW Andrew Davis, but he went way overschedule shooting the jailbreak (surprise: best sequence in the movie) so they fired him. They started back up 2 days later with Mark Glaser, a TV (and BAND OF THE HAND) director who had previously turned down the movie because he thought there wasn't enough time to prep. Not very experienced and now he's finishing somebody else's movie in worse circumstances than the ones he already thought were undoable. That explains why most of the action is pretty stiff or awkward (like the phony-looking fight in the helicopter at the beginning.)
So this is a low-rent version of a Verhoeven type movie, but you know, there aren't enough movie of this type, so I'm willing to go easy on it. Not essential Schwarzenegger, but unique enough to be worth watching.
This entry was posted on Tuesday, May 12th, 2009 at 7:12 pm and is filed under
Action
,
Reviews
,
Science Fiction and Space Shit
. You can follow any responses to this entry through the
RSS 2.0
feed. You can skip to the end and leave a response. Pinging is currently not allowed.