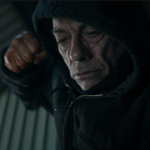 a.k.a. Lukas
THE BOUNCER, a.k.a. LUKAS, is a quite good 2018 JCVD movie that in the right mood might be very good. Or in another mood it might be boring as shit. It's the rare JCVD movie with an 80% critics / 49% audience score on Rotten Tomatoes. (BLOODSPORT is 39% / 74%.) So it's not his usual approach.
Narratively it's a pretty straight forward crime drama or noir type deal – club bouncer with mysterious past gets into trouble through no fault of his own and is forced to inform on his shady new boss, putting himself and his daughter in increasing amounts of danger, caught between two sides he can't trust. But tonally it kind of reminds me of UNIVERSAL SOLDIER: REGENERATION – a very grim and serious march into doom fueled by Van Damme's ragged features and hard-earned non-verbal acting skills.
Don't take that as a comparison in quality. REGENERATION is a masterpiece, I don't think THE BOUNCER is. Nor does it have the same dosage or strength of action. There's some vehicle and guns stuff that is REGENERATIONesque, but the occasional fights are raw and unexaggerated, more interested in brutal reality than cinematic flair. More RUST AND BONE than BLOOD AND BONE. Do not expect him to do the splits, do expect him to get knocked over and his face bloodied and he's too winded to get up but maybe he'll be able to roll over and shoot at somebody or crawl on top of them and punch their face in. Dour though it may be, I got a thrill out of seeing this broken-but-still-going type of Van Damme character in a movie that feels more artful and legit than the lower rent DTV stuff he sometimes ends up in. (read the rest of this shit…)
VERN has a new action-horror novel out called WORM ON A HOOK! He has been reviewing movies since 1999 and is the author of the film criticism books Seagalogy: A Study of the Ass-Kicking Films of Steven Seagal and Yippee Ki-Yay Moviegoer!: Writings on Bruce Willis, Badass Cinema and Other Important Topics as well as the crime novel Niketown.