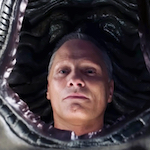 (warning: to the extent you can spoil a movie like CRIMES OF THE FUTURE, this review contains spoilers)
CRIMES OF THE FUTURE is your typical undercover story – a guy is working for The Man and thinks he's doing the right thing, but through his investigation he starts to see a different perspective, rethinks his loyalties, and questions whether or not to narc these people out. In this case the guy is a performance artist famous for growing inexplicable new internal organs and having them removed in front of an audience by laying in a machine that looks like a chrysalis, with robotic bone arms cutting him open under the control of a partner sensually poking her fingers into a gooey bladder. And the people he may or may not bust are (spoiler) an underground movement of people surgically altering their digestive systems so that they can eat plastic. But you've seen that before too. Just a good old fashioned organ opera like the ones we all grew up on.
Okay, yeah, on second thought maybe it's fair to say that this is a weird fuckin movie that could only be made by writer/director David Cronenberg (TOP GUN [offered but turned down]). When he did that trilogy of more reality-based Viggo Mortensen joints (A HISTORY OF VIOLENCE, EASTERN PROMISES and A DANGEROUS METHOD) people thought he'd moved beyond slimy mugwumps and uncharted glands and shit, and that this is a throwback. But he wrote and tried to make this before all those, so maybe he's just getting back on track.
Either way, this has a scene where Mortensen (AMERICAN YAKUZA) has had a zipper installed on his belly and can open it up, and Léa Seydoux (MISSION: IMPOSSIBLE – GHOST PROTOCOL) pleasures him by spreading it open and licking his innards. So it was cool to see at a multiplex on a giant screen with Minions ads and shit playing before it. The summer movie season has finally begun. (read the rest of this shit…)