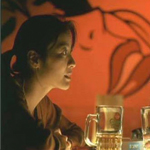 We owe this review to 1-900-MIXALOT, who was kind enough to recommend THE STUNTWOMAN in the comments for SUPERCOP. I found it at Scarecrow Video under the title AH KAM. I'm sure it's not easy to come by, but as I write this there's one copy available for $30 on Amazon, so it's not unobtanium.
Like all right thinking citizens of the world I revere Michelle Yeoh as a superstar of martial arts films, and also respect her great gravitas as a dramatic actress. I don't think there's anyone else who is iconic on the level of Jet Li and Donnie Yen in kung fu films, but also has Yeoh's level of success in non-action drama roles (including English language ones like SUNSHINE, CRAZY RICH ASIANS and Star Trek: Discovery). THE STUNTWOMAN is a 1996 Hong Kong film, her followup to WING CHUN, that bridges those two worlds. I definitely consider it a drama, not an action movie, but because she plays the titleistical stuntwoman we see her doing some of the good shit, and she also has one very satisfying opportunity to bust out a little bit of kung fu on some motherfuckers. (read the rest of this shit…)
VERN has a new action-horror novel out called WORM ON A HOOK! He has been reviewing movies since 1999 and is the author of the film criticism books Seagalogy: A Study of the Ass-Kicking Films of Steven Seagal and Yippee Ki-Yay Moviegoer!: Writings on Bruce Willis, Badass Cinema and Other Important Topics as well as the crime novel Niketown.