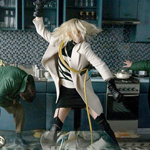 Our Lady of the Swaddledog, Academy Award winner Charlize Theron, stars in her first post-Furiosa ass-kicking movie, and holy shit it's from JOHN WICK co-director David Leitch and the 87Eleven action team. ATOMIC BLONDE, based on a 2012 graphic novel called The Coldest City, is a twisty Cold War spy thriller set in Berlin right before the wall came down. Theron plays Elaine Broughton, a beaten and bruised MI6 agent recounting a disastrous mission to obtain "The List," a document listing all the spies active in the Soviet Union (similar to the NOC List in MISSION: IMPOSSIBLE), and to kill whoever stole it.
Broughton has the qualities we look for in a larger-than-life movie spy: three steps ahead, improvisational when necessary, hyper-fashionable, sexy. When less experienced French agent Delphine Lasalle (THE MUMMY herself, Sofia Boutella) follows her, Broughton immediately makes her and beds her. The movie could get away with treating this like a conquest, but instead they start helping each other – spies with benefits – and you get to like Delphine.
The same cannot be said for David Percival (James McAvoy, THE POOL), the goofy, shifty contact who shows her around but might be the Russian double agent known as Satchel. (read the rest of this shit…)
VERN has been reviewing movies since 1999 and is the author of the books SEAGALOGY: A STUDY OF THE ASS-KICKING FILMS OF STEVEN SEAGAL, YIPPEE KI-YAY MOVIEGOER!: WRITINGS ON BRUCE WILLIS, BADASS CINEMA AND OTHER IMPORTANT TOPICS and NIKETOWN: A NOVEL. His horror-action novel WORM ON A HOOK will arrive later this year.