August 7, 1998
There's this conventional wisdom I've heard thrown around more than once that if you notice a shot being cool then it's not really a good shot. Which is to deny the existence of Brian De Palma. SNAKE EYES is an underrated spot on the De Palma timeline when he had just made a huge hit with MISSION: IMPOSSIBLE and was able to cash in and get big studio resources for a much more purely DePalmian thriller that exhibits 36 chambers of filmatistic showboating.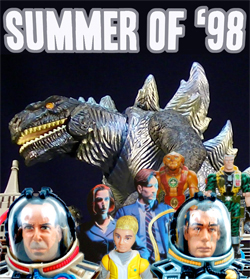 Why not use the suspense thriller format to explore every new or uncommon use of cinematic language De Palma was interested in at the time? Additionally, why not use every new or uncommon use of cinematic language De Palma was interested in at the time to explore the suspense thriller format? There is no why not. This movie is great.
Nicolas Cage, not long after FACE/OFF, plays Rick Santoro, not the stick-up-his-ass homophobe former GOP senator and presidential candidate from Pennsylvania, but an obnoxious, bribe-taking bad lieutenant, port of call Atlantic City, who wears loud clothes, bets on boxing matches, and is gonna have to stop fucking around and be a hero this time. See, Santoro is standing close enough to get blood on him when the secretary of defense (Joel Fabiani, BRENDA STARR) gets shot at the fight. Santoro bulldozes his way into investigating so he can cover the ass of his old war hero buddy Gary Sinise, REINDEER GAMES), who was in charge of security. (read the rest of this shit…)
VERN has a new action-horror novel out called WORM ON A HOOK! He has been reviewing movies since 1999 and is the author of the film criticism books Seagalogy: A Study of the Ass-Kicking Films of Steven Seagal and Yippee Ki-Yay Moviegoer!: Writings on Bruce Willis, Badass Cinema and Other Important Topics as well as the crime novel Niketown.