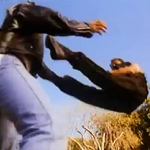 TRUE VENGEANCE is a 1997 Daniel Bernhardt movie that I bought specifically because it was written by Kurt Johnstad. I think I was looking him up because he wrote ATOMIC BLONDE, and I remembered that he was the guy who wrote 300, 300: RISE OF AN EMPIRE and ACT OF VALOR. I saw all of those in the theater and liked all of them, and it turns out his only other movie is this earlier DTV one that never even came out on DVD in the U.S. It's directed by David Worth (KICKBOXER, LADY DRAGON 1 and 2), and I think you can understand why that combination of people made it something I needed to see.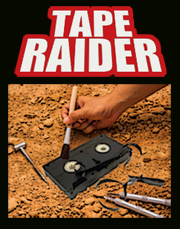 Benhardt plays Griffin, who was a Navy SEAL and then a hired killer of some kind but after the death of his wife he quit the life to take care of his daughter Emily (Tessa Sugay, "Club Girl (uncredited)," TOKYO DRIFT, "Dancer (uncredited)" THE SOCIAL NETWORK). After a brief, incoherent sniper prologue we meet him cutely joking around with his daughter pretending he doesn't know it's her birthday. So yes, she is going to be kidnapped.
He has an older guy he calls his best friend named Sam (Harrison Young, Ryan as an old man in SAVING PRIVATE RYAN), who I think runs a garage and kind of seems like he could be the landlord like the guy in ROAD HOUSE? He's involved in a great bit of b-movie flavor when he's doing a crossword puzzle, asking for a word for "something that haunts." Griffin suggests 'ghost,' but Sam says it has to be four letters, and just then a scary dude named Adachi (Keo Woolford, "Airport Worker," GODZILLA) steps in looking for Griffin, who dramatically declares that "The Griffin you knew… is dead." (read the rest of this shit…)
VERN has a new action-horror novel out called WORM ON A HOOK! He has been reviewing movies since 1999 and is the author of the film criticism books Seagalogy: A Study of the Ass-Kicking Films of Steven Seagal and Yippee Ki-Yay Moviegoer!: Writings on Bruce Willis, Badass Cinema and Other Important Topics as well as the crime novel Niketown.