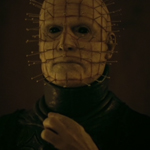 It wasn't much more than two years ago that I finally bit the bullet and reviewed the entire HELLRAISER series. I'd always had an attachment to the four theatrical ones (HELLRAISER and HELLBOUND: HELLRAISER II are still classics, HELLRAISER III: HELL ON EARTH is ridiculous, HELLRAISER: BLOODLINE is a mess with its hellbound heart in the right place) but had previously stayed the hell away from the DTV sequels (HELLRAISER: INFERNO (directed by Scott Derrickson), HELLRAISER: HELLSEEKER, HELLRAISER: DEADER, HELLRAISER: HELLWORLD and HELLRAISER: REVELATIONS). That last one feels for all the world like they just had to shit something out by the end of the month to maintain the movie rights, and that's what they came up with. Yet they've gone almost seven years without making a new one or a remake. Could it be that they finally decided to let it–
AH, FUCK. They made another one. And you know me, I'm a completist, I can't be the guy who's watched nine of the ten HELLRAISER movies. I had no choice but to watch this shit.
VERN has a new action-horror novel out called WORM ON A HOOK! He has been reviewing movies since 1999 and is the author of the film criticism books Seagalogy: A Study of the Ass-Kicking Films of Steven Seagal and Yippee Ki-Yay Moviegoer!: Writings on Bruce Willis, Badass Cinema and Other Important Topics as well as the crime novel Niketown.