I'm not sure why I'm okay with the title WES CRAVEN'S NEW NIGHTMARE. It's one of those dated titles, because it's not new anymore. And is the actual title supposed to be "New Nightmare" and it's presented by Wes Craven? Because I always think of Wes Craven as being part of the actual title, that it's about his nightmare. I don't know. Anyway, it fits.
WES CRAVEN'S NEW NIGHTMARE by Wes Craven is easily the smartest Freddy sequel and the one that most sounds like it could never work. I guess maybe some people might consider the premise ridiculous, but I always just went with it, it works like a charm on me (a very effective charm – I don't actually know how charms usually work but this one works real good is what I mean). It's the story of original NIGHMARE ON ELM STREET star Heather Langenkamp (uncannily portrayed by Heather Langenkamp) trying to stay sane in the face of some harassing phone calls, a series of earthquakes, some strange dreams and increasingly creepy happenings with her son. She and others keep having strange dreams – Freddy dreams. Meanwhile, Robert Shaye (Robert Shaye) and Wes Craven (Wes Craven) want her and Robert Englund (V's Robert Englund) to return for a new Freddy sequel that Craven is writing.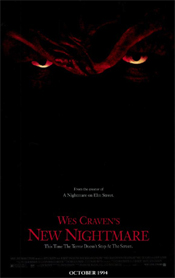 So in a way this isn't even a sequel. It takes place in a world where Freddy is a fictional character, at least at first. It tells us that the character of Freddy is a reflection of some ancient evil, and by telling his scary story we can keep this evil at bay. But if the story becomes too familiar or watered down (or just turns into a bunch of sequels where the evil is just used to dress up in different outfits and make bad puns related to gimmicky special effects sequences) it loses its power over this entity and we're fucked. So really this is about the NIGHTMARE series becoming so lame that it forced Freddy to "cross over into the real world" for revenge.
You know what, I think I blame the Fat Boys for making Freddy real. If they hadn't made that video with him I'm not sure he would've become real. I know DJ Jazzy Jeff and the Fresh Prince did it first, but the Fat Boys probly pushed it too far.
Then again maybe it wasn't the video that did it. It could've been the pinball machine: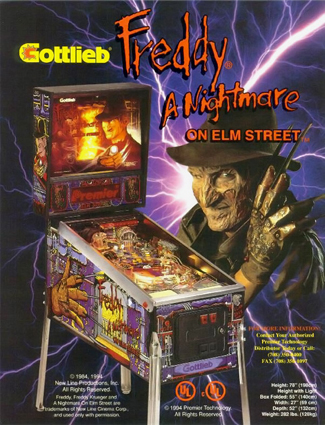 Or the novelty record: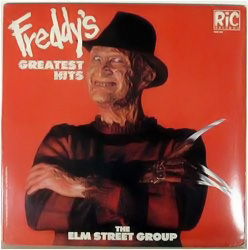 Or the yo-yo: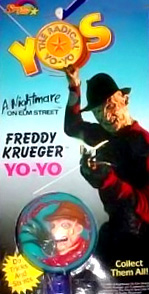 Maybe the toy van: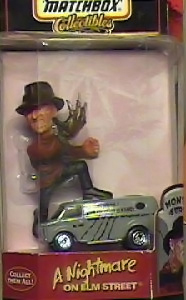 Or the doll that dresses up as Freddy: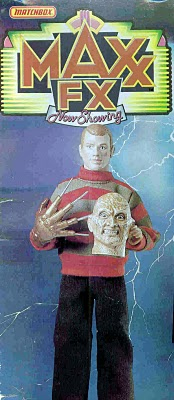 Or of course we should consider the, uh, Fright Squirter: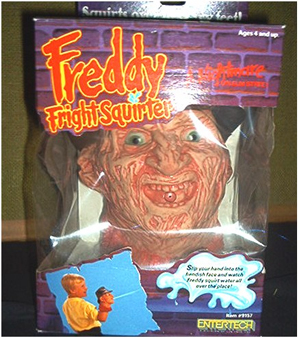 You know, in retrospect maybe it's irresponsible to put all the blame on the Fat Boys, but I still think they contributed. If you're not part of the solution you're part of the problem of the NIGHTMARE ON ELM STREET series becoming watered down and unleashing an ancient evil entity into the real world to cause havoc. Sure, it seems fun at the time, all that rapping and yo-yo-ing and squirting, but next thing you know you're screaming and bleeding and dying.
After ten years of fright squirters, WES CRAVEN'S was a smart idea. It was a unique combination go-back-to-square-one and completely-reinvent-the-thing maneuver. Postmodern before SCREAM but also back to the original flavor. And it made Freddy pretty scary again. He's still played by Englund but you're not even really sure if it's him at first because he looks different – bulkier, more demonic in the face, wearing a coat (now he can slash you outdoors during the winter! He's unstoppable!)
But he stays carefully out of the spotlight, you don't see him all that much until the climax. He's like a guitar player who knows how to go to the back and play rhythm and doesn't always have to roll around on the floor playing a solo making a stupid face. A team player.
So the movie doesn't follow the sequel formula. While previous sequels were trying so hard to repeat what they think you liked in the previous ones this one tries something different, more personal, and therefore more authentic. Instead of yet another story where older people try to relate to kids this one is about what was going on in their lives: worrying about their kids seeing their movies, or about people thinking they're bad parents for making those movies, being uncomfortable with fans treating Freddy as a hero. Heather and Robert do a talk show appearance for the 10th anniversary. We watch distanced and creeped out as the crowd goes crazy with their Freddy costumes and memorabilia. Afterwards Heather waits while Robert is mobbed for autographs. Everybody wants Freddy's autograph, not the clever girl who defeated him. (until the last shot)
This is all real to them. In real life (not just the real life of this movie) Langenkamp is married to a special effects guy, and she did deal with a stalker (although it wasn't a Freddy fan, it was somebody who knew her from the sitcom JUST THE TEN OF US), and of course being in California they all experience earthquakes (including during the production of the movie). That's also a subtle reference to the original, which had a line about weird dreams happening before earthquakes. I like that this really celebrates and revisits the first movie in a way that only the originator really could, returning to the mindset of the first time around without being tainted by what other people did with the sequels. Freddy is back to being a little-seen, little-heard mystery man, dark and vile and not at all funny.
The dreams aren't as literal in the sequels. Yes, Heather is a movie actress but that doesn't mean Freddy gives her a dream where he's in a director's chair yelling into a big bullhorn and shoots knives at her with a red and green movie camera. It's more like real dreams, primal imagery like snakes and fire and shit. Much earlier though there's a dream that impressed me because it has the type of logic that makes sense in my dreams. It involves special effects technicians building a Freddy glove that has the nerve bundles of a real doberman so it can move more realistically.
And the way they talk about dreams is real too. I remember one time I had dreams about a plane crash and the next day I saw on the news that there had been a plane crash. It freaked me out until I figured out I heard the morning news on my clock radio while I was half awake. So I appreciated her husband suggesting a similar explanation for how she dreamed the cuts he got on his fingers.
The biggest scares in this one aren't in the dream world, though. Heather's kid (played by Miko Hughes, the killer baby from PET SEMETARY) is a sleepwalker, and he ends up doing some dangerous things, possibly under the influence of primal pre-Freddy. When she's having a conversation with John Saxon in the park and doesn't notice her son somehow climbing to the outside and top of some very tell playground equipment that's obviously a universal parental fear. I mean in most people's imagination it wouldn't necessarily be John Saxon they were talking to, but it might be. The main thing though is the kid being endangered.
It's kind of weird because Craven didn't have anything to do with creating the script for SCREAM, but he did alot of the same shit already in this movie, just without trying to be cute about it. It has the idea of people being terrorized by fictional horror movies coming to life, it has similar upper class homes with swimming pools and poor Nancy running around them being scared by scary voices on the phone. SCREAM's references are mostly verbal, but this one has many visual echoes of things that happened in NIGHTMARE PART 1, like Freddy dragging a body up a wall onto the ceiling. But if you don't recognize them as references they won't seem out of place at all.
Its portrayal of small time celebrities seems much more realistic than SCREAM's too. Langenkamp as herself makes a great horror heroine, just like she did as Nancy Thompson in parts 1 and 3. It kind of feels like we already know her even though we haven't seen a movie about her before. But in a way she sort of slides into the role of Nancy because for some reason nobody believes her that the character from the horror movie she starred in is after her kid. So like Nancy she has to lie to doctors and take matters into her own hands. I mean it's pretty much the same situation except the shameful event in the past is FREDDY'S DEAD: THE FINAL NIGHTMARE instead of vigilantes burning a guy alive.
She also has kind of a daughter-father relationship with John Saxon, who gives her really good and supportive advice except that in this one particular case where Freddy is coming to life his advice is actually wrong. But usually it would right. I mean he's the guy from ENTER THE DRAGON. You should listen to him.
I really like this movie and it was a perfect ending to the series. You wouldn't want to go back to another DREAM WARRIORS rehash after this one, but you wouldn't want to do a WES CRAVEN'S NEW NIGHTMARE PART 2: WES CRAVEN'S REVENGE either. It was fun that they brought back "funny Freddy who says bitch alot" for FREDDY VS. JASON, but let's not get too carried away with the character, Hollywood. You fuck him up again he'll cross over again, and it's a pain in the ass when that happens.
http://youtu.be/L3F6auMKH7g