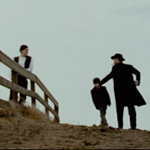 I saw KILLING THEM SOFTLY today and I'm working on the review right now, and that made me realize that when I finally caught up with the director's previous movie earlier in the year I didn't ever post a review of it. But it turns out I did write some stuff in my notebook, so I dug that up and I don't mean to brag but I am a pretty good typist so here is a quickie review for you, friends.
THE ASSASSINATION OF JESSE JAMES BY THE COWARD ROBERT FORD has gotta be the longest title to a movie that I've ever reviewed. What's that, 17 syllables? THE BAD LIEUTENANT: PORT OF CALL NEW ORLEANS is only 11, LEGEND OF THE GUARDIANS: THE OWLS OF GAHOOLE is 12 or 13 (depending on your pronunciation of "owls"), and both of those have colons I think, so that softens the blow. This has no colons. This title is amazing.
(read the rest of this shit…)
VERN has a new action-horror novel out called WORM ON A HOOK! He has been reviewing movies since 1999 and is the author of the film criticism books Seagalogy: A Study of the Ass-Kicking Films of Steven Seagal and Yippee Ki-Yay Moviegoer!: Writings on Bruce Willis, Badass Cinema and Other Important Topics as well as the crime novel Niketown.