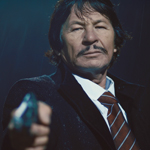 The success of DEATH WISH launched a million sleazy urban vigilante revenge pictures, but it took 44 years – one for each millimeter in a Magnum – for us to get one starring an uncanny Charles Bronson lookalike. In the tradition of THE MAN WITH HUMPHREY BOGART'S FACE, BELA LUGOSI MEETS A BROOKLYN GORILLA, THE CLONES OF BRUCE LEE, the entire genre of Bruceploitation, Dolly the Sheep and Madame Tussaud's comes DEATH KISS starring Robert Kovacs, a.k.a. Robert Bronzi. He doesn't have a death wish, he is the kiss of death, you see. They explain that.
I believe this is a sincere tribute and/or a weird novelty, not a cash grab, because it's not like there's gonna be big money in tricking somebody into thinking there's another old Bronson movie they never heard of, or that Bronson is alive and looking the same age as he was in DEATH WISH four decades ago. There's no explanation, he just appears there with his messy hair and trademark mustache, wearing his Paul Kersey trenchcoat and tie, a mysterious stranger showing up where he's not supposed to, putting bullets into child traffickers and their clients, or unsolicited cash into the mailbox of a troubled single mother (Eva Hamilton, OUIJA HOUSE) who has no idea who he is.
VERN has a new action-horror novel out called WORM ON A HOOK! He has been reviewing movies since 1999 and is the author of the film criticism books Seagalogy: A Study of the Ass-Kicking Films of Steven Seagal and Yippee Ki-Yay Moviegoer!: Writings on Bruce Willis, Badass Cinema and Other Important Topics as well as the crime novel Niketown.