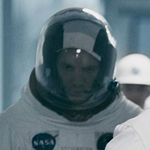 I really dug WHIPLASH and LA LA LAND so I was gonna see any new movie from director Damien Chazzelle. When I saw the trailer for FIRST MAN, his new one starring Ryan Gosling (FRANKENSTEIN AND ME) as Neil Armstrong, it looked like it was shot in an unorthodox way, but I still wondered why we would need another astronaut history moon movie. Haven't we seen every variation of this? Clean cut, crew-cut, cut-from-a-different-cloth heroes like they don't make anymore. Courage and adventure and boy scouts and all that. Is there anything new to say about it?
Well, it is in fact a totally different take. In fact, I don't see anyone saying this, but it seems to me like kind of a subversion or at least a deconstruction of that ideal of heroism.
Sure, you also have all the stuff about what a preposterous feat it was to figure out you can shoot some guys on a fuckin rocket, have them get out and walk around on the moon, and then come back and land on earth safely. I mean, how the fuck? The filmatism really concentrates on rockets as rickety, iffy propositions. We're crammed in there with him in the test flights, or with the crew on the real launches. Always claustrophobic. We hear all the roaring, vibrating, clattering, rattling and mysterious straining metal groans from somewhere in the machine. The dials and buttons click and look so impossibly low-tech today. Even when they were the state of the art they couldn't have felt all that safe. (read the rest of this shit…)
VERN has a new action-horror novel out called WORM ON A HOOK! He has been reviewing movies since 1999 and is the author of the film criticism books Seagalogy: A Study of the Ass-Kicking Films of Steven Seagal and Yippee Ki-Yay Moviegoer!: Writings on Bruce Willis, Badass Cinema and Other Important Topics as well as the crime novel Niketown.