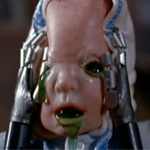 PUPPET MASTER VS. DEMONIC TOYS came out the year after FREDDY VS. JASON and a few months before ALIEN VS. PREDATOR, but eight years before THE AVENGERS, so it is an important milestone in cinematic universe crossover events. According to Wikipedia, though, it is "non-canon." Produced for The Sci-Fi Network (before they had their own proprietary spelling), it doesn't have Charles Band or Full Moon's names anywhere on it, but it was directed by Ted Nicolaou (THE DUNGEONMASTER, TERRORVISION, SUBSPECIES, BAD CHANNELS, DRAGONWORLD) and written by C. Courtney Joyner (PUPPET MASTER III, DOCTOR MORDRID, TRANCERS III, plus PRISON and CLASS OF 1999).
Although I'm not all that familiar with either the vast PUPPET MASTER saga or the rich DEMONIC TOYS mythos I did think this one might be worth watching this week when I read (in Yuletide Terror, once again) that it was a Christmas movie.
Corey Feldman (EDGE OF HONOR, TEENAGE MUTANT NINJA TURTLES) plays Robert Toulon, proprietor of Toulon's Puppet Hospital, which looks like a business on the outside but from inside seems to just be a basement where he and his daughter Alex (Danielle Keaton, VILLAGE OF THE DAMNED, PINOCCHIO'S REVENGE, BABY GENIUSES) do experiments mixing chemicals and blood in beakers and injecting them into the famous PUPPET MASTER puppets Blade, Pinhead, Jester and Six Shooter (but not Leech Woman). Although I guess they're on their own alternate dimension timeline, please note that these are the original Greatest Generation anti-Nazi puppets, not the hate criminals from the S. Craig Zahler version. (read the rest of this shit…)
VERN has been reviewing movies since 1999 and is the author of the books SEAGALOGY: A STUDY OF THE ASS-KICKING FILMS OF STEVEN SEAGAL, YIPPEE KI-YAY MOVIEGOER!: WRITINGS ON BRUCE WILLIS, BADASS CINEMA AND OTHER IMPORTANT TOPICS and NIKETOWN: A NOVEL. His horror-action novel WORM ON A HOOK will arrive later this year.