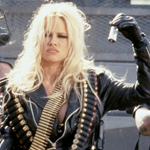 "Do I look disenchanted to you?"
I think it's important to be honest, so here it is: I saw BARB WIRE years before I ever saw CASABLANCA. So now that I've finally seen the Humphrey Bogart one I thought I should rewatch to find out if the Pamela Anderson one really is loosely based on it.
Actually, not that loosely! It's kind of a sci-fi world, based on a little known comic book, and it's gender-swapped: Barb Wire (Pamela Anderson, BORAT) is the Rick character, the supposedly not-taking-sides military veteran running a club where dangerous people congregate. Curly (Udo Kier, BLADE) is the waiter guy. Police Chief Willis (Xander Berkeley, WALKER) is the pain in the ass but sort of sympathetic cop raiding the club and kissing the ass of the visiting assholes. Instead of Nazis those guys are "Congressionals" from Washington DC. But their uniforms look like the Gestapo and their leader, Colonel Pryzer (Steve Railsback, LIFEFORCE) likes to torture people. (read the rest of this shit…)
VERN has a new action-horror novel out called WORM ON A HOOK! He has been reviewing movies since 1999 and is the author of the film criticism books Seagalogy: A Study of the Ass-Kicking Films of Steven Seagal and Yippee Ki-Yay Moviegoer!: Writings on Bruce Willis, Badass Cinema and Other Important Topics as well as the crime novel Niketown.