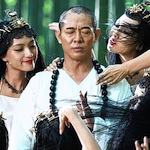 After I watched DR. WAI IN "THE SCRIPTURE WITH NO WORDS" for the specific reason that it was a Jet Li movie directed by Ching Siu-Tung, I realized I should watch the more recent movie that fits the same description. THE SORCERER AND THE WHITE SNAKE (2011) is another fantasy martial arts romance, outlandish in a different way than the other one because it's based on a Chinese legend about animal demons.
Li plays the titular sorcerer, a truck trying to carry explosives across a shaky rope bridge, and of course Whitesnake play themselves, performing many of their hits as well as debuting songs from that year's album Forevermore. At least I assume that was what Ching intended, but he caved to the bean-counters, so instead Li plays a skilled Buddhist demon hunter called Abbott Fahai, and early in the movie we are abruptly confronted with the sight of two beautiful human lady torsos with scale-covered breasts and giant snake body lower halves, rolling around sexily on top of each other. It's one of those things where I'm kind of icked out by it but also very happy for whatever number of people there are out there who are into snake ladies and are sorely underserved by mainstream cinema. Merry Christmas, you pervs.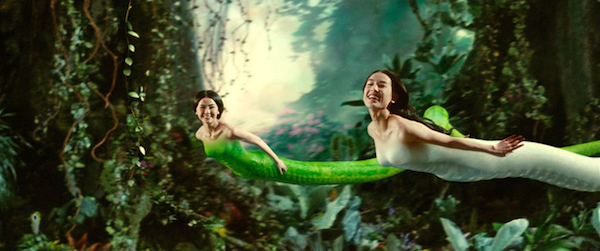 VERN has a new action-horror novel out called WORM ON A HOOK! He has been reviewing movies since 1999 and is the author of the film criticism books Seagalogy: A Study of the Ass-Kicking Films of Steven Seagal and Yippee Ki-Yay Moviegoer!: Writings on Bruce Willis, Badass Cinema and Other Important Topics as well as the crime novel Niketown.