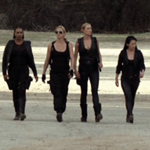 There are innumerable dreams to which humanity aspires: feeding the hungry, building racial harmony, inventing comfortable shoes that also look cool, ending war, etc. Of these goals, the one we've come closest to achieving is "a female EXPENDABLES." But it takes small steps to make big ones.
This was a concept that guys like us were already discussing and backseat casting before the movie news told us it was really in the works. In fact there are two such movies still in development. There's the one from the producers of the male EXPENDABLES. It was announced before Rowdy Ronda Rousey was in part 3, so I don't know if they plan to spin off from her character or not. From the sound of it it might not be worthy of a woman that tough. They're calling it "EXPENDABELLES" and it's from the director and the writers of LEGALLY BLOND. It was reported that they were trying to get Naomi Watts, Kate Beckinsale, Marcia Gay Harden, Li Bingbing and Mila Kunis. Sigourney Weaver turned it down. I'm gonna go ahead and write this one off.
The other one is from Adi Shankar, the face-paint wearing producer of DREDD and those "bootleg universe" shorts like Joseph Kahn's POWER/RANGERS. This one reportedly stars Gina Carano (HAYWIRE, FURIOUS 6), Katee Sackhoff (RIDDICK) and maybe Sharni Vinson (YOU'RE NEXT, STEP UP 3), which is a promising start.
But leave it to Asylum, the studio that brought us SHARKNADO and I AM OMEGA, to have theirs already done and released before the other two even settle their casting. Admittedly this DTV female mercenary squad is light on marquee names, but it's a good team. They have Zoë Bell (DEATH PROOF, THE BAYTOWN OUTLAWS, GAME OF DEATH), Kristanna Loken (TERMINATOR 3, S.W.A.T.: FIREFIGHT), Vivica A. Fox (KILL BILL, THE HARD CORPS, BLAST, SET IT OFF), and, uh, Nicole Bilderback (CLUELESS, BRING IT ON). (read the rest of this shit…)