S.W.A.T.: FIREFIGHT is the straight to video sequel to the movie everybody kinda forgot about, based on the TV show that people only know of if they know the fucking awesome theme song. So before we get into this particular movie, ladies and gentlemen, I present to you the one and only reason for the continued existence of the S.W.A.T. franchise of trademarked intellectual properties and likenesses and what not:
The theme was composed by Barry De Vorzon, who also scored some movies we enjoy such as HARD TIMES, ROLLING THUNDER and THE WARRIORS. Both of the S.W.A.T. movies re-use the theme, but in not-very-good modern interpretations.
FIREFIGHT probly doesn't have any of the characters from the first movie, which probly doesn't have any of the characters from the TV show, but nobody would remember anyway, so let's not worry about the details. Directed by music video and NEXT DAY AIR director Benny Boom, the sequel stars first-time-ever-actor Gabriel Macht (that's completely untrue, but I'd feel like an asshole pointing out that he played THE SPIRIT) as an L.A. S.W.A.T. team leader S.E.N.T. to D.E.T.R.O.I.T., MI, U.S.A. to train some of their guys for homeland security certification in hostage negotiation.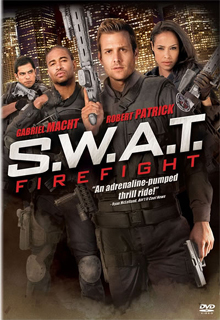 I came to this with an open mind, but I have to admit I almost didn't watch it when I saw a Travers-esque quote from The Ain't It Cool News on the cover. Nothing against my sometime internet home or even the particular guy who wrote the quote, but he's somebody I had never heard of until I saw his name on the cover of THE BOONDOCK SAINTS 2. I know what you're thinking: "Well, that doesn't seem like a problem, as long as it was just his name and not some sort of a quote about the movie being good." But it's right there in all caps: "THE SEQUEL IMPROVES ON EVERYTHING THAT MADE THE FIRST FILM GREAT." Because of that his endorsement of this movie set off a few alarms in my brain.
No problem. Turns out we're not so far off on this particular part 2. Despite a dicey rich-kid-party opening reminiscent of a WILD THINGS sequel and an overuse of the video game style guy-shooting-a-gun POV shot, S.W.A.T.: F.F. is a reasonably entertaining DTV, well-paced, and with some good moments of camaraderie between cops. For the most part the team likes and supports each other, there's not a bunch of forced bickering to make it "dramatic." There's one guy that clashes with the boss, but all the better for them to be professionals and have each other's backs later. The guy he kicks off the team later comes through for him in a big way – I love that shit! That tickles my macho.
The bad guy is Robert Patrick, one of these blowback type of villains. He's some kind of secret government killer and he blames this S.W.A.T. team for his woman's death so he declares war on them. And conveniently he springs his trap inside the same building where they were gonna have their final test. So it's a good opportunity to stop a madman and obtain some much needed certification.
I know this doesn't sound like a compliment, but I stand by my feeling that Macht is like a more charismatic Casper Van Dien. I kind of liked him in this, playing his character Paul Cutler as a highly competent professional always spouting information and strategy and generally sounding to an idiot like me that he knows what he's talking about.
I was also surprised how much I liked Shannon Kane (BROOKLYN'S FINEST, BLOOD AND BONE) as Barton, a war buddy that Cutler recruits to improve his team's sharpshooting. It's hard to buy a woman that beautiful as a grizzled veteran and badass cop, but she speaks with a confidence and intelligence that sells it. Hey man, it's a DTV sequel. That's what snipers look like in DTV.
Here's an example of what's appealing about this movie: when Cutler arrives in Detroit one of the first things he asks is how fast the S.W.A.T. team's response time is. He seems to not believe their answer, so he goes out to a town square, calls in a bomb threat and sits there with his stop watch. I was thinking ha ha, he's gonna catch them red-handed and embarrass them. But no, what I like is that they actually show up in the amount of time they claimed they would, and he compliments them on a job well done.
It's not as good as it could be. The other guys on the team aren't the greatest actors. There are some humorously awkward transitions, like the cut that seems to imply that he drives from L.A. to Detroit in one morning, and the scene where they illustrate a late night of partying by having one cop say, "… and you were a dancin' machine last night!" I think maybe it's supposed to be funny, but I'm not sure what I think about the girl who tells him "Some day you're gonna meet somebody that you care about more than work. And when you do, embrace her, or she's gonna figure out that you are emotionally unavailable." That seems a little forced.
But it's likable enough.
Here's something kind of cool: the screenplay is credited to a TV writer (Reed Steiner) and three police technical advisers (Randy Walker, Michael Albanese and Ed Arneson). Two of them were advisers for the first S.W.A.T., all three played S.W.A.T. officers in TERMINATOR 2. So I guess they'd worked with Robert Patrick before. And guns.
I'm not really saying to run out and rent this, but if you're curious I think it's decent. If this is the new standard for mediocre DTV – and it's starting to seem like it is – then things are definitely looking up.