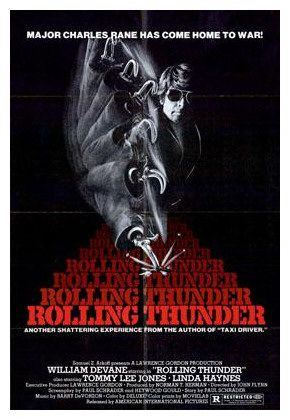 Has everybody here seen ROLLING THUNDER? Written by Paul TAXI DRIVER Schrader, directed by John OUT FOR JUSTICE Flynn, starring William Devane and Tommy Lee Jones, this is one of the hall of fame badass revenge movies, a must-see classic. Yet it's never been legitimately released on DVD, and fairly hard to come by on VHS. When it played in a small theater in Seattle a few years back the only known print had to be borrowed from Quentin Tarantino's collection, and I hear it was not in good shape. Tarantino loved the movie so much he named his short-lived theatrical re-release label after it, and yet even he didn't get it a re-release. So I always figured there was some weird deal with the rights, or an ancient Egyptian curse of some kind. At one point I even got a chance to ask John Flynn's daughter if she knew why it hadn't been released, and she had no idea. (She says he was a great dad and a real cool guy, by the way.)
But there's a fairly recent phenomenon pioneered by Warner Brothers, the manufacture-on-demand archival DVD. If you're not familiar with it, the Warner Archives is a program where WB have been going through their vaults, remastering everything and making them available… but instead of spending all the money to manufacture a big print run, market and distribute them and hope enough people want them they just have them listed online, you order one, and they print you up a DVD-R. I think they got the idea from the original release of Seagalogy on lulu.com. Same basic concept.
With this approach they've been able to release all kinds of obscurities that there wouldn't be enough of a market for otherwise. I was amazed when THE SERGEANT was one of the early titles released by Warner Archives. You mean to tell me that Flynn's 1968 drama about post WWII army sergeant Rod Steiger trying to stifle his sexual attraction to John Phillip Law came to DVD before ROLLING THUNDER? How is this possible?
Well, thankfully now the other studios are following the Brothers's lead, and with the other day's announcement of Fox releasing 400 MGM titles (timed to distract me from being bummed out about the election) comes the news that the official #1 on my list of Movies That Need To Fucking Be Released On DVD, For Crying Out Loud can finally be crossed off. ROLLING THUNDER will be part of the first wave available to order– well, it doesn't say. But soon, it sounds like.
Fox had done some titles before, including WHITE BUFFALO, but now they're going full hog, planning to release 400 titles over the next 18 months (they only seem to have announced the first 50 so far). Also being released are VIGILANTE FORCE, a never-even-on-VHS Kris Kristofferson/Jan Michael Vincent/George Armitage redneck joint that I hear is pretty good, and THE WITCHES, which has an early appearance by Clint Eastwood.
Obviously I believe ROLLING THUNDER is worthy of a Criterion Edition, and would do well with one of those sort of specialty labels and some interviews with Schrader and all that. But I'm not gonna look a gift horse in the mouth. And we can assume the print quality will be good, because it's been airing remastered on HD channels. I just don't have an HD TV so it did me no good until now.
Now officially #1 on my list of Shit That Needs To Come Out: THE OUTFIT. Also directed by John Flynn.
This entry was posted on Thursday, November 4th, 2010 at 3:16 am and is filed under
Blog Post (short for weblog)
. You can follow any responses to this entry through the
RSS 2.0
feed. You can skip to the end and leave a response. Pinging is currently not allowed.