I hope everybody, or most people, or a couple people are enjoying all the horror reviews this month. I'm happy that I've found time to watch a healthy amount of them, plus throw in the occasional TREE OF LIFE or LAWRENCE OF ARABIA when it comes up. But of course the Badass Arts are never far from my mind, so once again I've compiled some links and comments on various news from the past couple weeks related to some of my favorite ass-kicking authors and actors, etc. This one includes theatrical releases, DTV, TV, one book, and ballet. Well, all except the last one. Sorry Telf. But I think there's alot of things to be excited about here.

UNDISPUTED 4, MOTHERFUCKERS
DATELINE, SCOTT ADKINS' TWITTER ACCOUNT: The UNDISPUTED 2-3 star reports, "For those asking Undisputed 4 is coming." He doesn't elaborate except to answer a fan's question of whether or not Michael Jai White will be in it (he won't). Adkins has alot of movies in the can and coming up but the one he seems most excited about is the UNIVERSAL SOLDIER which he has said "will blow ur mind."
PARKER UPDATE
Jason Statham was on a web-exclusive episode of The Treatment podcast with Elvis Mitchell, talking about THE KILLER ELITE, and he said something I had never heard reported about the PARKER movie: "It's funny, we talk about '70s movies, the original script that we were talking about doing was written 30 years ago, so it was like, do we want to make it a period piece or do we want to modernize it and make it up to date? So we discussed that and Taylor was right in making a modern version of it, I feel."
On IMDb the script is credited to John J. McLaughlin, writer of BLACK SWAN, so either they heavily rewrote it or he's saying they had a different Parker script they considered but made an all new one. Whatever he means it brings up the question of what the 30 year old script is that he's talking about, and I have a theory. This would be more than 30 years old, but Brian Garfield (author of the novel Death Wish and friend of Donald Westlake) wrote an adaptation of Butcher's Moon for Charles Bronson and Michael Winner to do (discussed in this interview). That was while the duo were filming DEATH WISH, which neither Garfield or Westlake ended up thinking was well directed, so Bronson and Winner ended up leaving and it never happened. Too bad, Bronson would've been a better Parker than most.
Anyway, as far as PARKER, some of the character names on IMDb seem to match up with a later Parker novel, Flashfire, so the prevailing theory is that it's loosely based on that one.
LAST STAND UPDATE
I'm happy to read that Schwarzenegger has actually begun filming that movie with the great Kim Jee-Woon (I SAW THE DEVIL). So it's actually gonna happen, looks like. Good choice. The cast includes Ghost Dog (GHOST DOG), Harry Dean Stanton (COCKFIGHTER) and Luis Guzman (THE LIMEY). And Johnny Knoxville and Peter Stormare.
CARLA GUGINO ON JUSTIFIED
Did any of you fellas watch that show Karen Sisco when it was on back in '03? That was a show I really dug based on the federal marshal character from Elmore Leonard's Out of Sight, played by Jennifer Lopez in the movie. I love that movie and wasn't sure about accepting another actress as Karen, but Carla Gugino was so good she replaced J-Lo in my mind as the character.
Like Justified the show did a good job of capturing Leonard's tone, with a charismatic lead, imperfect heroes, a sense of humor and interesting guest-criminals that sometimes became the focus of the episodes. The same director, Michael Dinner, did the pilots for both shows. Although critics loved it Karen Sisco only lasted 10 episodes and for some fuckin reason has never made it to DVD.
Well, that hasn't changed, but Gugino's gonna be on Justified in season 3.
The article on tvline.com that broke the news says she plays "Karen Goodall, a Washington, D.C.-based assistant director of the U.S. Marshals Service who used to work with Raylan back in Miami — and as such shares a history with our favorite trigger-happy lawman. Goodall, who is twice-divorced and described as 'tough, smart and funny,' comes to Kentucky to help safeguard hidden witnesses who have become vulnerable after the murder of a U.S. Marshal."
Is that sort of a re-named Karen Sisco, due to rights issues or some shit? I don't remember Sisco having any ex-husbands, but I guess it's been a while since we've seen her. She was a federal marshal working in Miami and I don't think they'd give her the same first name if they didn't want us to think that. I guess if Robert Forster shows up as her dad we'll know for sure.
Also if you missed it Neal McDonough (STREET FIGHTER: THE LEGEND OF CHUN LI) and Mykelti Williamson (MIRACLE MILE) have signed on to play villains this season. And last season's villain won an Emmy.
In related news, Leonard's new novel is about (and called) Raylan, and comes out January 31st.
ONCE UPON A TIME IN THE FAST AND THE FURIOUS
The LA Times is reporting that Justin Lin will film THE FAST AND THE FURIOUS parts 6 and 7 back-to-back next year and that they might connect into one large story. You know, like RED CLIFF, but with fast cars and big neck muscles instead of Chinese history and CGI arrows. In my opinion, ten years ago I would not have guessed that there would be six sequels to that movie and that two would be a 4-hour Furious Epic and that The Rock would be in them and that it would be really exciting.
How the fuck you make a 4-hour street racing heist movie I do not know, but they do have a big enough ensemble now I guess. And I hope Letty teaches Han how to fake his death at the beginning so we can bring Lucas Black into it.
Oh yeah, and there are rumors that Jason Statham will be in them too, but I don't think that's been confirmed at all.
DIE HARD 5.0 BETA
In anybody missed it, they're calling the new DIE HARD picture A GOOD DAY TO DIE HARD. I'm not really for or against it. It would work best if it's supposed to be the last John McClane adventure.
I would like to be excited for this. Unfortunately, when you're dealing with the director of MAX PAYNE and the writer of HITMAN you sort of have to lower your expectations. I assumed they would bring on another writer because I mean come on, the best thing he's done was THE A-TEAM. I have a hard time imagining he came up with a good way to approach a difficult task. But I hope I'm wrong.
DETECTIVE JOHN TAKEN vs. WOLVES
Speaking of THE A-TEAM, director Joe Carnahan has a new one coming out in January called THE GREY, and the trailer came out a while ago so I meant to post it. Liam Neeson and friends are oil drillers who crash their plane in Alaska and have to fight a bunch of wolves or something. Personally I've found all of Carnahan's movies to be mixed bags (yeah, even NARC, but it was pretty good) but this one does sound potentially good.
DJANGO UNCHAINED CASTING UPDATE
Tarantino's slavery spaghetti western or whatever continues casting. Jamie Foxx is still the title character, trained in bounty hunting by Christoph Waltz. Leonardo DiCaprio is the villain, with Samuel L. Jackson working for him. Kevin Costner unfortunately had a scheduling conflict so he cannot play a slavedriver fight trainer, and has been replaced with Kurt Russell. Of course I generally prefer Russell, but I loved the idea of Costner playing a slimy racist asshole. Michael Kenneth Williams from some TV show has said that Tarantino wrote a role for him. Don Johnson has just been added, which is cool although Robert Rodriguez beat him to it by having him in MACHETE. Maybe Seagal is next.
HERE IS A DRAWING OF CLINT EASTWOOD BY THE LEGENDARY WRESTLER JERRY LAWLER
Here is a drawing of Clint Eastwood by the legendary wrestler Jerry Lawler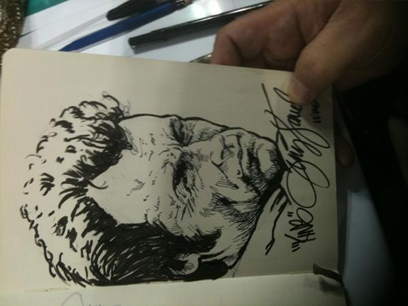 A COUPLE OF EXPENDABLES 2 PICTURES
Some Expendablistic behind-the-scenes photos have been posted on Twitter by the various actors. Scott Adkins posted one of him in costume as "Hector":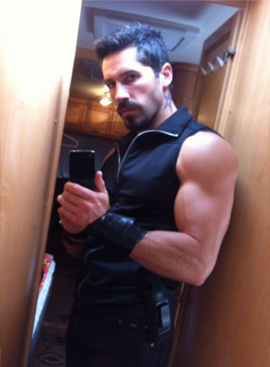 He reminds me of a guy that would be in MORTAL KOMBAT, or one of those background evil mutant characters from BRETT RATNER'S X-MEN 3, and I mean that as a compliment. A good super villain type of look. For some reason I have a feeling this is gonna be the movie that breaks him through to the next level of action movie success, but I guess that depends on what they give him to do and whether or not they manage to get him in frame when he's doing it. Which might be unlikely from director Simon West.
And you probly saw this one: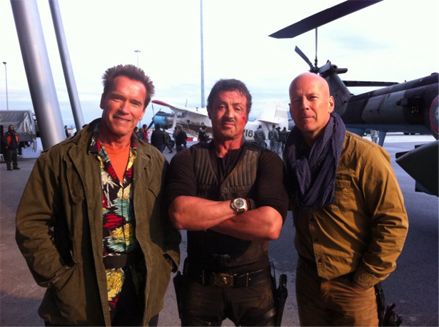 I know it's foolish to get my hopes up for this movie, but I gotta admit that picture is pulling me in. Yeah, they were in that scene in the first one that I couldn't hear because the people in the theater wouldn't shut up, and I couldn't tell if they actually shot it together because they rarely showed them in one shot. But this makes you hope for something better.
I love how they're all wearing a different form of action movie adventure gear. Stallone's got his Expendables uniform, complete with Action Wristwatch and cowboy-style side holsters. Bruce has more of a worldly mercenary look because of the scarf. I don't think that's an Ashton Kutcher Hollywood Douchebag Scarf, I think it's more of an I've Been To the Middle East one. And is that a gun on his left side or a glove? I think it's a glove. All the better to choke you with. Then of course Schwarzenegger has the '80s Cop Who Plays By His Own Rules look with the Hawaiian shirt with trenchcoat (not pictured: cigar). It's a look that says I don't give a fuck about camouflage. No seriously guys, I really really don't give a fuck. It's a Hawaiian shirt, fer chrissakes.
And the planes in the background make me think they're about to fly out to a jungle together and have a violent adventure. We'll see I guess.
This entry was posted on Friday, October 21st, 2011 at 10:46 pm and is filed under
Blog Post (short for weblog)
. You can follow any responses to this entry through the
RSS 2.0
feed. You can skip to the end and leave a response. Pinging is currently not allowed.