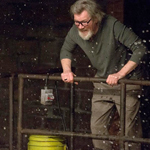 I don't know how it happened but somehow I became the guy that's more lenient on Kevin Smith movies than everybody else. Back in his hey day when he was a Miramax family member, an indie movement poster boy, a voice of a generation, a director of a movie in the Criterion Collection, a critical darling praised for his dialogue, I used to think he sucked. Here's an overly harsh one I wrote back when people still seemed to like him (I advised readers not to make eye contact with people who recommend it to them). So I'm as confused as anybody that now that he's widely hated and semi-retired I keep having an  "actually it's not that bad" reaction to his "flicks," as he calls them. COP OUT at least had a couple laughs, and his first horror movie, RED STATE, I actually thought was kinda good and now, I'll be damned, I kinda liked TUSK too. What the hell?
TUSK is less consistent than RED STATE but a little more inspired in its absurdity. It continues the technique of coasting on an excellent performance by Michael Parks as a sadistic weirdo. This time he plays a retired Canadian proud of his life of rugged adventure and deranged, it turns out, by a long period of being stranded after a shipwreck. What's that mean, that he had to go cannibal to survive, something like that? No, not quite. It means he got messed up by being isolated with only a walrus as his friend. He called him Mr. Tusk, according to his JAWS style monologue about the incident. And now he's undergoing unusual measures to get that relationship back.
You know how in HUMAN CENTIPEDE there's that freako mad scientist who, you know, does that one thing to his victims? This is like that only his thing is to turn a guy into a walrus. Make his legs into a tail, his hands into flippers, attach tusks to his cheeks, teach him to swim and eat fish. It's ridiculous, but it's treated seriously, with gruesome effects by Robert Kurtzman. I got a kick out of the goofy audacity of the idea (inspired by actual events, the credits claim), but I also found it genuinely disturbing. You see his victim (Justin Long)'s sad eyes looking out from this fat blob of Frankensteined flesh and think jesus, this guy totally fucked up his body, how could he ever recover from this? The answer is worse and more cynical than I thought.
(END SPOILER: His girlfriend and best friend come to visit him at an exotic animal shelter. They bring him a fish. He comes out of his cave and eats it. A sad song plays.)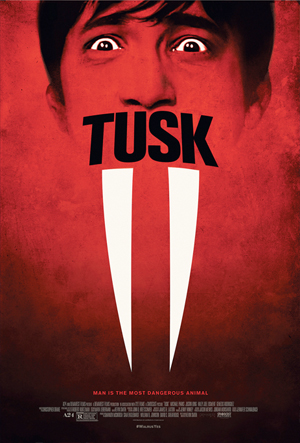 To me the horror here is ridiculous but legit. Other elements threatened to sink it. Though Smith is probly a better podcaster than he ever was a filmatist, his depiction of Long's comedian-turned-professional-podcaster character is grating enough that I almost threw in the towel pretty early in the movie. I know Smith does it, but I have a hard time believing this guy makes a good living from this podcast where they talk about Youtube videos. And the explanation of why it would be called "The Not See Party" is a pretty long leap for the one laugh it generates later on.
I'm also not in love with Smith's "Canadian stuff is wacky" philosophy (be ready for Degrassi, hockey and "aboot" references). And I'm mixed on the goofball character played by an unbilled star you wouldn't expect to be willing to be in this movie. I guess that's what the Canadian Loomis who hunts a guy who turns people into walruses should be like, but it's alot of silly for only a little funny. So I'm neutral leaning negative on that aspect.
Come to think of it there are two Canada jokes that are a little more on the meta-ish side that I think are pretty funny. One, Smith treats Canada as a dangerous, unknown place for an American to go. We've seen parts of Europe portrayed that way, for example in the HOSTEL series and in the first TAKEN. But our neighbors to the north have not been portrayed that way before, to my knowledge, or been suspected of having any reason to.
Two, you know how so many movies that take place in so many places are always filmed in Canada? For example RUMBLE IN THE BRONX actually rumbled in Vancouver, and most movies taking place in Seattle (BATTLE IN SEATTLE, 50 SHADES OF GREY) did too. This is the rare movie that takes place in Canada but is filmed mostly in the U.S. I remember Daniel Waters said in an interview he almost did that in SEX AND DEATH 101, but he chickened out. Smith didn't plan it that way, he just lost his intended house location in Toronto and moved the production to North Carolina. Still, filming anywhere in the U.S. as a stand-in for anywhere in Canada is refreshingly novel. Congratulations, Canada.
By the way, did you know that Jodorowsky also had a movie called TUSK? His was a children's film about a kid whose destiny is intertwined with that of an elephant born on the same day as him, or at least that's what I've read. I have a bootleg of it but it has no subtitles. Jodo disowned it so we'll probly never see a better release.
Anyway, the parts that Kevin Smith TUSK that take themselves seriously are weirdly up my alley. Like in RED STATE I see a positive Tarantino influence on the storytelling. It's kind of in chapters instead of normal screenplay structure. It occasionally jumps around in time, flashing back from the HOSTEL type proceeding to show us what life was like with his girlfriend before she and his podcasting sidekick (holy shit, it's Haley Joel Osment! He got older!) come looking for him. Genesis Rodriguez seems suspiciously out of his league, but she's not only there to be hot. She has a big crying monologue, not even related to the walrusization, that's pretty effective, so she gives a little emotional ballast to the ridiculous My Boyfriend Is a Walrus concept.
I'm not gonna claim this is entirely successful or a consistent vision, but I like the idea and how far Smith takes it. What Parks is trying to do is hilariously over-the-top, and I love that (to me anyway) that part doesn't come off like a joke. It's just a guy letting his freak flag fly, and he has a really fuckin weird freak flag.
It's a shame this movie didn't do better because we really need to do something to tighten our walrusization laws in the United States.
This entry was posted on Wednesday, February 4th, 2015 at 10:05 am and is filed under
Comedy/Laffs
,
Horror
,
Reviews
. You can follow any responses to this entry through the
RSS 2.0
feed. You can skip to the end and leave a response. Pinging is currently not allowed.